---
Royal Towers, Atlantis Bahamas:
For our first hotel feature we will introduce The Great, The Good and The Bad on the Atlantis in the Bahamas. One thing you will notice is that the Atlantis is a great option for a large group, >200 guests.
The size of the property, number of guest rooms and endless activities provide something for everyone. For a Caribbean destination they are one of the few hotels that welcome large group travel during the busy season.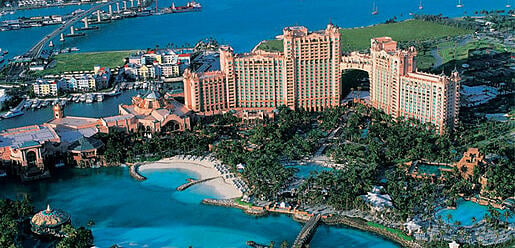 ---

The Great:
- Ease of Flights from the East Coast - Direct flights on JetBlue & Delta
- Number of Activities on Site - Free Waterpark, Multiple Pools, Swim with the Dolphins, Snorkeling, Casino, Shopping, Basketball Courts, Aquarium. You do not have to leave the Atlantis during your entire incentive trip and still have a great time.
- The Ocean Club Golf Course – "Free Hotel Shuttle"
- Outdoor Function Space
- The Cove Pool Area
- Size of Property - plenty of room for group activities or privacy if desired
The Good:
- Number of restaurants on site.
- Cost per night – the activity fee was confusing and costly but the per night room cost for high season is affordable for a large group.
- Multiple properties on site with different budget / accommodation options.
- Large Hotel Rooms
- Ability to handle a group with over 500 guests
- Pool Bar Service


The Bad:
- On-Site Food Cost
- Hotel recommended vendors; inconsistent transfers, unimpressive DMC
- On-Site Bar options for mid-week nights
- On-Site Hotel Representative - spending 9 months planning with someone in Miami who is not on site for your event
- Check-in /Check-out process
- Inconsistent staff
---

CONCLUSION & UPDATE:
Overall for the per night room cost in the Caribbean for March this is one of the best options for a large hotel with endless activities. The food cost for the attendees does add up but look at providing vouchers to help subsidize the costs or room credits.
10/30/2015 UPDATE:
The Atlantis, Bahamas now offers an all-inclusive package for corporate meetings and events which include three meals a day along with a complimentary banquet menu to replace one meal. This package also includes discounts on activities and complimentary premium brands each day. This change opens some great opportunities for young technology companies coming from the East Coast.
9/16/2018 UPDATE:
We have found the quality of experience at the Atlantis to continue to decrease year over year. With the new addition of Baha Mar opening up we highly recommend looking at those properties, (SLS, Hyatt, or Rosewood) as an alternate option to the Atlantis properties. The Royal Tower is in need of desperate renovations and the property has gotten too comfortable with group travel and continues to offer just average service.

---
Editorial Disclosure: The editorial content on this page is not provided by any entity mentioned herein. Opinions expressed here are the author's alone, and have not been reviewed, approved or otherwise endorsed by any of these entities.
As is standard practice, our group of talented and experienced travel agents will often accept hosted stay invitations and hosted dinners and activities within destination in order to facilitate more detailed reviews.
All images by the author.