---
New England Resorts :
For companies that are looking to hold corporate events, events in off season months at New England resorts are a tremendous opportunity for a top flight corporate event at a bargain rate. Events booked in either the fall or spring benefit from the drop in occupancy in the form of reduced block room rates, the full attention of a recreation department to plan activities and still pleasantly warm temperatures of the late spring or early fall season. For those looking for a little more than a company picnic at Thompson Island, here are four impressive options within two hours of the Boston area.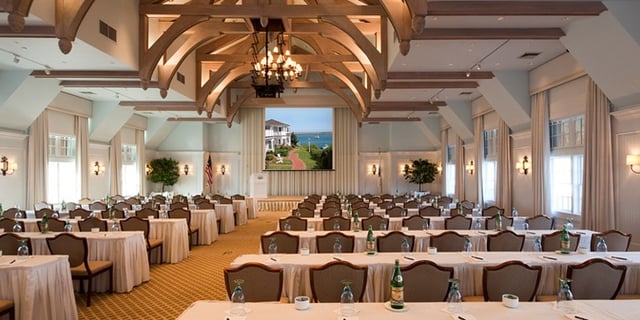 ---
Chatham Bars Inn:
Chatham Bars Inn, a charming beachfront 4-star, 4 diamond, property offers multiple options for the modern business trip. The hotel features 217 rooms across a 25 acre property. The Inn also owns a local 8 acre farm, which produces vegetables for farm to table use across the resort's 4 dining outlets. The resort boasts 15 meeting rooms, totaling over 17,000 square feet of meeting space, including multiple rooms with ocean views and a grand Monomoy Meeting House which can be used for large meetings, or dressed up for an elegant dinner occasion. In addition to a heated pool and private beach, the Inn also owns an accompanying 4-star spa, and offers transportation to classic Cape Cod golf courses.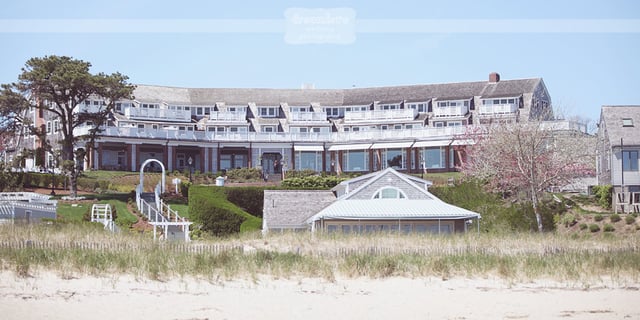 The Boat House. Available for daytime meeting use, and ocean front evening dinner space.
Wentworth by the Sea:
The Marriott owned and operating Wentworth by the Sea, located in New Castle, New Hampshire offers top notch service and a beautiful and iconic coastline. The hotel has 161 room accommodations, 12 meeting rooms amass over 14,000 square feet. Bonus: The beautifully restored Grand Ballroom is a magnificent venue for a group dinner.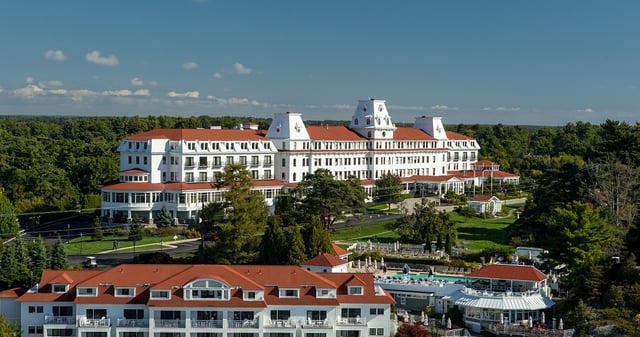 Mount Washington Hotel:
Mount Washington, a 4-diamond Omni property in Bretton Woods, New Hampshire, offers both award winning golf and quick access to the highly acclaimed NH mountains for skiing. The 4 diamond resort offers 30,000 in total square feet, spread among 18 rooms, the largest of which is nearly 7,000 square feet. The Omni hotel also has 343 luxury cottages spread amongst its' beautifully landscaped property.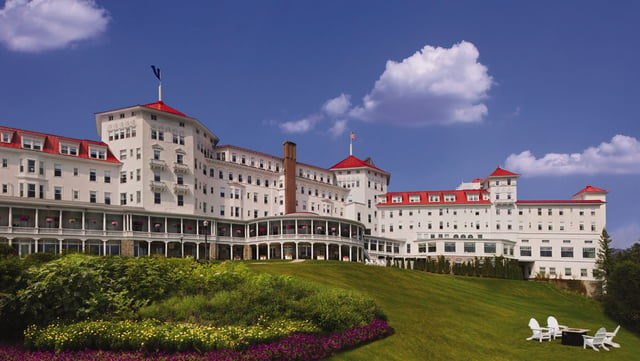 Hyatt Regency Newport:
The Hyatt Regency, is one of the finest hotels in all of classic Newport, Rhode Island. The 4-star property offers a stunning infinity pool, as well as transportation to the various landmarks of Newport. The property offers 257 guest rooms, as well as 16 meeting rooms over 25,000 square feet. The largest meeting room is an impressive 8,000 square feet, making it ideal for companies looking to hold corporate wide events.

---

Off-Season Opportunities:
Hosting an annual retreat or company wide sales meeting at a luxury property is sure to have your employees feeling refueled heading into the holiday season or back to the summer grind. These properties each offer a terrific experience for a memorable and productive event. Reward your employees with a truly top of the line experience at a much more affordable price tags. Resorts in the off-season depend on these types of trips to make it through the off-season, as many of the rooms will go unoccupied. Filling those unoccupied rooms as much as possible gives the resort an opportunity to avoid going unused and unprofitable.
---
Editorial Disclosure: The editorial content on this page is not provided by any entity mentioned herein. Opinions expressed here are the author's alone, and have not been reviewed, approved or otherwise endorsed by any of these entities.
As is standard practice, our group of talented and experienced travel agents will often accept hosted stay invitations and hosted dinners and activities within destination in order to facilitate more detailed reviews.