---
All Inclusive Focus - Four Five Star Property Comparisons
Secrets Cap Cana (Set to Open Nov 2016):
This is a brand new capstone property scheduled to open mid November of this year with approximately 450 rooms. The breakdown is expected to be 55 tropical view (Run of House) with another ~50 with partial oceanviews (these are NOT oceanfront, think very small oceanview). This property is planning 14 different room categories so it will be interesting to see if this changes in the upcoming year. The location on Cap Cana is secluded and breath-taking. The white sand beach, crystal blue waters and feeling of seclusion will blow you away for a Dominican Republic product. Similar to Paradisus Palma Real the infinity pool is again the centerpiece of this hotel and will be the perfect gathering place for incentive trips.
Size - Small Horse shoe feel that incentive trips are looking for
Location - Cap Cana
Brand New - chic clean South Beach design
Meeting Space ~10,000 Square Feet
15 minutes from airport
Golf & Scape Park ~5 minutes away
Few potential drawbacks
Couples/Honeymoon Focus
Lack of Double Bed Rooms
Service TBD (could take awhile to get organized and experienced)
Food TBD (bar is set high with Paradisus Palma Real)

---
Paradisus Palma Real:
Currently the prized All-Inclusive property for group travel in the Dominican Republic. Unlike most of the properties in the DR this is an intimate choice with right over 500 rooms and 5 star, 4 diamond rating. You don't need your sneakers or patience to enjoy this property.
One thing that sets this property apart from the others is the extensive breakfast, lunch and dinner buffet. The property also offers the traditional al la carte options at a handful of restaurants but the quality of the breakfast and lunch buffet is unparalleled for an all-inclusive resort (even better than Ritz Aruba breakfast buffet which is almost $40 a person). Also for those night owls, there is 24 room service included along with one location on property that keeps the bar and a snack option open overnight.
Pool & Beach are everything you would want. White sand beaches, crystal blue water, beachside palapas, swim-up bar, pool surf workouts, in-pool loungers, and more. The pool is the centerpiece of this property and has plenty of room for everyone even during busy season. For group travel it's the perfect meeting place for guests to socialize and network.
Bars are memorable. For us, Gabi Beach Bar is ranked top 5 for resort bars (Four Seasons Anguilla Sunset Lounge ranks #1). The fact that this trendy chic beachside bar provides an all-inclusive product is even more impressive. The nightly entertainment is just what guests are looking for. Only wish is that the bar stayed open closer to 1am versus the current 11pm hard closing time.
Large Meeting Space, multiple ballrooms, over 20,000 Sq feet of meeting space.
Only three small complaints: First, the actual rooms & their location - There is a very limited number of true oceanview rooms and all are located in Royal or Reserve product. The Run of House category is set back in the gardens and lacks any decent views. The Royal rooms have an upgraded chic South Beach vibe but the Junior Suites and One Bedroom Suites can be upgraded. Second, no beach service for food or drink. Each time you want a drink while relaxing at the beach you need to head to the pool bar or snack bar. The property is missing that true beach-side snack bar feel. Third, Levels of service. The property has three categories of service starting with Reserve, Royal (butler) and everyone else (I'll call this standard). It seems over the years more is getting taken away from the Standard category and becoming an upgrade into the Royal service. There are 3 pools on property but only 1 is accessible to the standard guest. Same goes for lunch al la carte options, the beach-side juice bar, and the spa water ritual area. Unfortunately it's confusing to guests and leaves them feeling annoyed. When in reality, after experiencing the Royal service I would recommend the standard experience time and time again!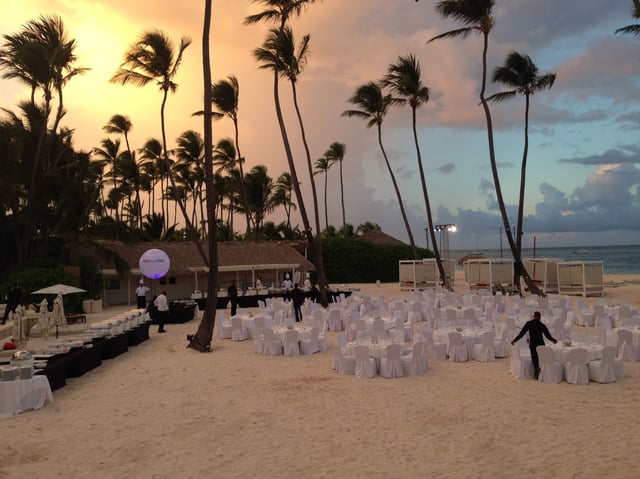 ---

Paradisus Punta Cana:
For those looking for a village then this is a great option for you. But don't forget your sneakers or patience for trolley service. This property has beautiful gardens, an impressive beach, an extensive pool and endless dining options but the overall size can be daunting to any meeting planner. To get guests from the meeting space to the restaurants and guest rooms will take coordination and additional transfers. This property does not have the trendy chic vibe as their sister property but instead an older more classic feel.
---
Hard Rock Punta Cana:
This property is a common choice for many large groups. There are a few perks for this property over some of the rest when it comes to meetings. The property is extremely large and almost 3x the number of rooms of its competitors. If you are looking for a large room block, +400 rooms this would be a great place to start. Their meeting space is extensive and the property is similar to some of the larger properties in Las Vegas. Again don't forget your sneakers as this property can be a good workout getting from your room to your morning meeting or preferred pool.

First: The size of the meeting space is the largest you will find in the Punta Cana area for a five star hotel, 65,000 sq feet.
Second: Nightlife, the hotel has their own disco/club on property so for those looking for a constant party, this is the property for you! There's constant live music and great entertainment each evening, you won't get bored!
Multiple Pools, adults-only, swim-up bars, family pools. Due to the size of this property there is something for everyone who is looking to enjoy an afternoon by the pool.
The beach is white sand and blue waters. Again you can't go wrong at this property with beach relaxation (albeit a little more noisy).
Despite extensive options for dining this property still falls below the Paradisus Palma Real quality. There is everything you ever want but it still has that All-Inclusive dining feel.
For a small group, this property can eat you up and spit you out. Despite the extensive group function spaces you are always competing with other groups on property each evening. If the group is one who enjoys spending time together it's harder for guests to naturally find each other to socialize.
Overall Punta Cana is a hot destination for incentive travel. There are new hotels being built each quarter and the water problem is improving each year.
Editorial Disclosure: The editorial content on this page is not provided by any entity mentioned herein. Opinions expressed here are the author's alone, and have not been reviewed, approved or otherwise endorsed by any of these entities.
As is standard practice, our group of talented and experienced travel agents will often accept hosted stay invitations and hosted dinners and activities within destination in order to facilitate more detailed reviews.
All images by the author.