---
Transfer Distances:
As beautiful and exotic as St. Lucia is, it's unfortunately a tough fit for a typical incentive trip (3-4 nights). The main reason behind this is the distance between the airport and the hotels. There are only a few hotels who would be a good fit for any incentive trip over 50 rooms. These hotels are within a one hour drive to the airport, have over 75 rooms, have multiple dining options, and can be accessed by boat to provide day activities. Also due to the topography and roads within St. Lucia it makes transportation for dinners, activities very cost prohibitive. Pricing for transfers can be almost 60% more than most Caribbean islands.
The island does boost an impressive collection of boutique hotels that target honeymoon and romance travel but these are high budget experiences with only a limited number of rooms.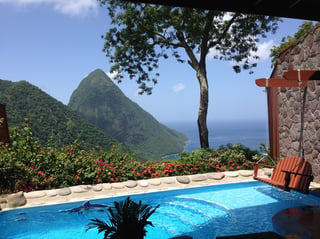 ---
Best Bet:
Viceroy Sugar Beach - This hotel is a high end option for those with a generous budget for their incentive trip. The location is only 40 minutes from the airport and is one of the few St. Lucia beaches with white sand (imported). There is an impressive late-night bar option with both indoor and outdoor space. There is a casual beach bar along with a more formal beach-side dining setup. The unique part of this property is the location of a majority of the rooms up in the hills. The location leads to some great views but also forces you to take a shuttle for any meal, to get down to the beach or the larger hotel pool. The rooms themselves have a airy Caribbean feel and most have their own intimate plunge pool. Along the beach you can stay active with the complimentary water sports including their unique water bike, paddleboards and snorkeling.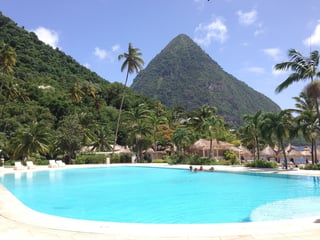 The spa is top notch, the gym and tennis courts will fulfill your fitness needs. This is a resort you can spend 4 days at and not feel like you need to leave once. There are enough dining options and daily activities to keep you busy. The beach is beautiful and pool relaxing. For groups there are multiple spaces that can be used for welcome party and final dinner events. The sunset terrace is a great blank space for a memorable Welcome Party, high up in the hills with stunning views.
Capella Marigot Bay - This hotel targets European clientele but is still an option for US incentive travel. The location is one hour from the airport. The rooms are recently renovated, the pool is relaxing, the food is impressive and the service is exceptional. This hotel prides themselves on providing personalized service to each client who walks through their doors. You experience this from the second you arrive, until the minute you depart. Again this hotel is flexible and has two bars options for those looking for late night entertainment. The biggest negative about this property is the beach, or lack there of. There is one beach that is about a 5 minute complimentary ferry ride across the inlet but it is very public and not the beautiful Caribbean beach you would hope for.
One great bonus is the impressive options for a dine-around event right within the marina with 5 restaurants including the best Indian restaurant in St. Lucia. All restaurants can be accessed by walking or 5 minute ferry ride and provides a fun evening for guests.
For group welcome party and final dinner there are a few options of good outdoor space that already has impressive lightening and décor in place. Overall if you are set on St. Lucia this might be your best option for your budget.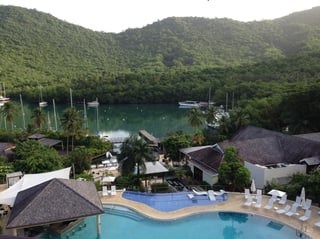 ---

Alternate Options:
There are two additional hotels (Sandals Grande St. Lucian Spa & Resort and The Landings St. Lucia) that would be a good fit except for their location on island. For a three night incentive trip its hard to bus attendees over 1.5+ hours to get to the hotel, especially after a long day of travel. The driving also isn't a flat highway but instead through curvy roads in the mountains. The only alternate way to get to these hotels is by helicopter which can be tough on the budget for an incentive trip.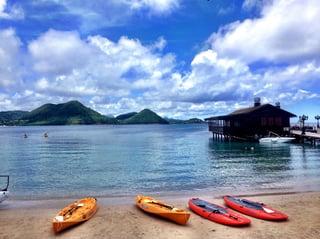 St. Lucia does have two airports on island and SLU is located closer to some of the hotels but unfortunately it's airlift is non-existent from the US due to the size of the runway.
Overall a stunning island but tricky for incentive planning.

Editorial Disclosure: The editorial content on this page is not provided by any entity mentioned herein. Opinions expressed here are the author's alone, and have not been reviewed, approved or otherwise endorsed by any of these entities.
As is standard practice, our group of talented and experienced travel agents will often accept hosted stay invitations and hosted dinners and activities within destination in order to facilitate more detailed reviews.
All images by the author.
---