Rosewood, SLS, Grand Hyatt Review
The Baha Mar hotel facility has come a long way since its opening back in 2017. It's a great product for MICE travel, given its convenience to the US. There's plenty to do in terms of golf, spa, and snorkel. And the price is a good value for your dollar when comparing it to other Caribbean islands. Food and beverage prices are still a challenge at the hotels, but with MICE travel that's expected.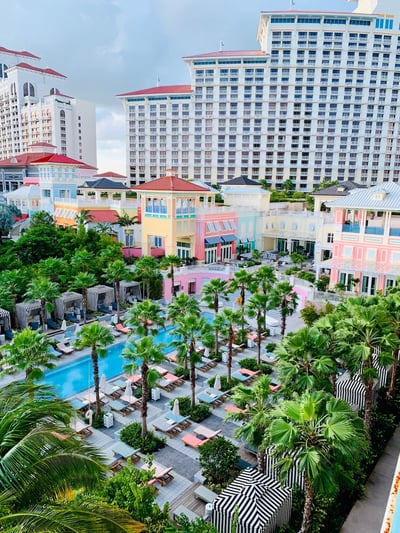 First let's explore the positives of the Baha Mar facility overall.

1. Location: Only 15 minutes from the airport, this property could not be any more convenient for a 3-night program. Baha Mar has an advantage here over Atlantis because depending on traffic it can take up to an hour to reach Paradise Island.

2. Impressive convention space: This might be one of the more impressive meeting spaces in the Caribbean. Obviously being brand new helps, but it also has great indoor/outdoor meal space close by--a very quick walk from any of the three hotels. Atlantis might win in overall size of their convention facilities, but Baha Mar has a significant advantage in quality.

3. Diverse range of hotel products: Baha Mar is currently comprised of Hyatt, SLS, and Rosewood hotels. We found the Hyatt to be the best value for your dollar out of any experience in Nassau. The rooms are impressive, outdoor facilities are plentiful, and location is convenient to the spa, casino, and restaurants. This product currently blows away the Atlantis comparable, and there will be an additional product or two joining the Baha Mar product over the next 18 months.

4. Golf Course: Baha Mar has a new 18-hole golf course with ocean views. This alone is a huge perk for Caribbean hotels in the MICE space. Currently there are very few 4-5 star hotels in the Caribbean that have such a high level of golf product right on site. This course/club house is impressive but Atlantis still has the advantage here with The Ocean Club golf experience. The Ocean Club is a bucket list item for many golfers. But the Baha Mar course is perfect complement for a 2-3 day golf trip.

Now let's look at the negatives of the property overall.

1. Service: This was the number one issue throughout the experience in the Bahamas. Adding 18% gratuity to every bill has led to awful service throughout the Baha Mar property. Employees spent more time interacting with each other than serving guests. From the restaurant team, to housekeeping, to pool service, to front desk and even the bell staff, most employees were not motivated to serve clients. There is a sense that guests are inconveniencing the employees when asking them to do simple tasks that are part of their job (for example, ordering a drink from a bartender at the lobby bar or lunch at the pool, or even expecting any towels from turn-down service). Even their five star hotel, Rosewood's service at dinner was shockingly bad. The solution: employees need to spend less (or no) time talking to each other and more time servicing guests! Unfortunately this might be more of an island-wide challenge, as we experienced similar attitudes at Sandals Nassau and Atlantis Royal Towers.

2. Meeting space rental fees for outdoor events: Despite having plenty of outdoor space for group events, it seems that rental space comes with a high price tag at Baha Mar. We were provided with anything from $500 to $5000 for a simple outdoor space for 50 guests. This seems on the high side given the size of the facility.

3. Beach: Overall the beaches in Nassau can be disappointing compared to some of their neighboring islands in the Bahamas. Compared to Atlantis, the biggest drawback of the Baha Mar facility is that there are public vendors trying to sell you stuff all day. There was very little actual hotel beach service, the chairs look weathered, and the beach didn't appeared to be cleaned.

Atlantis has a more private, intimate feel, and the beach by the Cove is more protected when the waves pick up. Atlantis wins in the beach category but still falls short in comparison to Four Seasons Bahamas Beach or even Sandals Nassau beach.

4. Lack of water park: The facility has plenty of pools for guests to enjoy but the water park portion is very limited. Baha Mar is in the midst of a 2-year project to add a water park experience. Currently the Atlantis is one of the best hotel water parks in the world.

Overall, after experiencing both properties, I feel the best choice for larger groups and convention needs in Baha Mar is the Hyatt. The value is just much better than the two partner hotels, yet you have access to many of the same shared facilities. Yes, the other hotels have more intimate pool experiences but the service was so bad at those pools that guests ended up migrating towards the Hyatt pools anyway.

The sweet spot for incentive market would be The Cove, Atlantis. This hotel provides you access to the water park facilities, one of the nicer beaches, and has an adults-only pool product. It's a hotel within a hotel, so it still has that small hotel feel for an incentive trip but also provides opportunity for overflow and large property entertainment (think casino, golf, marina, etc.).

Unfortunately the Four Seasons product on Nassau is out of reach for the majority of the MICE space given the most recent increase in pricing.

Overall, Nassau has come a long way in terms of number of viable 4-5 star hotels in the MICE space. Its accessibility is top in the Caribbean market and with a dedicated focus on service it could be the front runner in the Caribbean MICE market.
Editorial Disclosure: The editorial content on this page is not provided by any entity mentioned herein. Opinions expressed here are the author's alone, and have not been reviewed, approved or otherwise endorsed by any of these entities.
As is standard practice, our group of talented and experienced travel agents will often accept hosted stay invitations and hosted dinners and activities within destination in order to facilitate more detailed reviews.
All images by the author.