Officially known as Hawaii, the Big Island is the largest of the Hawaii islands with over 4,000 mi². Due to the size of the island there are two main airports that travelers use, Kona and Hilo. The airlift into the Big Island is strong from the West Coast and even International with daily direct flights from San Francisco, LAX, Portland, Seattle, and Tokyo. Many large companies such as Salesforce, SAP, and Oracle host annual events on the Big Island each year therefore the hotel product is continually improving to keep up with MICE travel industry demand.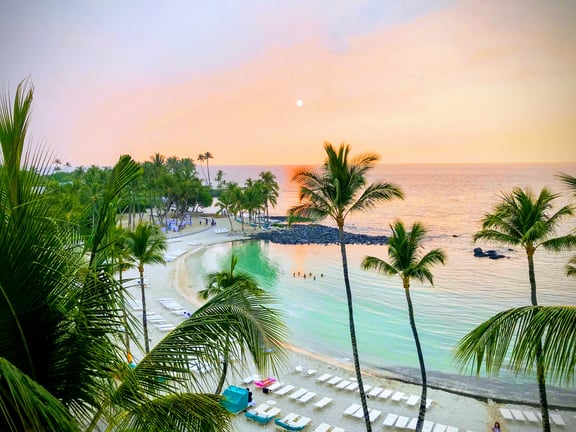 ---
Fairmont Orchid - 540 Sleeping Rooms, ~30,000 Sq Ft Indoor Meeting Space
This property features a great outdoor event space and indoor meeting space. The five impressive outdoor spaces are perfect for small to large outdoor evening events. Four of these event spaces are complete with ocean views and the fifth, Plantation Estates, (still with slight ocean views) is set back with golf course views and a built in stage.
The Fairmont is the most experienced on the island in hosting large corporate events. They have an impressive stage and tent builds as well as creative event menus and displays. If you are looking for a venue for a large corporate event (300-3000 attendees) then look no further. This property has managed events with guests in the thousands in the past and has never disappointed. The Fairmont does a great job working with other hotels on the island to use additional sleeping rooms while their property hosts social events and corporate meetings.
One small disappointment is the rooms and the hallways. The bathrooms are well designed (even have 2 showers), large in size, and the décor is impressive. However, the hotel rooms lack any "wow factor."
Also due to the layout of the property there are many "Ocean Views" that are setback and only a small glimpse of the water. The Presidential Suites are vast in size but are still lacking that "wow factor" guests would expect.
The gym is small in size for this type of property but the tennis courts make up for this with some of the best resort courts we have seen in years.
The morning breakfast buffet is fantastic but be prepared to be pestered by the birds. The buffet can also get busy around peak times creating a wait time to be seated. The F&B throughout the property is impressive in terms of quality but the evening dinner options are limited certain days of the week. The catering menus were extensive but average in quality.
Overall if you are looking to book a large corporate event or conference then this might be the spot for you. Be prepared that this is not the Four Seasons in terms of service and this is an old, traditional hotel, there is nothing contemporary or updated about this property.
---
Waikoloa Beach Marriott Resort & Spa - 295 Sleeping Rooms (295 Hotel Rooms, rest timeshare conversion), ~24,000 Sq Ft Indoor Meeting Space
This property completed a 16-month renovation back in the summer of 2017 to move from a more targeted corporate option to a more family timeshare focus. Out of the 555 sleeping rooms on the property only 295 were renovated and placed back into the hotel pool while the other 246 were converted into 112 Vacation Club units. This change is a major blow to the corporate meetings market for this resort as not only were the sleeping rooms lost but also 10,000 square feet of meeting space was converted into retail space.
The rooms renovation was a big success with the king rooms adding walk-in showers complete with sliding glass doors. The lobby was brightened up with a grab-and-go restaurant.
This property has 2 pools on site along with 2 golf courses for guests to enjoy.
Overall this resort is a good option for a mid-sized incentive event or small meeting/conference who needs 150 sleeping rooms and 300 guests. Unfortunately, this hotel will continue its move towards Vacation Club ownership versus focusing on the MICE market.
---
Four Seasons Resort Hualalai - 243 Sleeping Rooms, ~8,400 Sq Ft Indoor Meeting Space
This property is unique in that there are more villa owned rooms than hotel rooms. With that said for a high end, high budget incentive trip, you can't go wrong with this hotel. From the top notch service, to world-class golf, to memorable culinary experiences, and five star amenities, this property will make any attendee feel appreciated and welcomed.
The smallest guest room on the property is 635 square feet versus the largest: the Presidential Villa with 5,518 square feet of private space.
The Jack Nicklaus golf course is known as the best on the island with sweeping ocean views, black lava, and bright green fairways. The spa is truly luxurious and a perfect option to achieve to pure relaxation.
This property does a great job with their dining options by offering everything from a casual beach bar to an elegant steakhouse. Their catering team takes it a step above the rest with their creativity, menus, and displays.
For a small incentive trip that requires under 80 rooms with a large budget, this could be the over-the-top experience your guests deserve and will remember. The Four Seasons focus on service at this property is a step above the resort industry throughout the US.
---
Hilton Waikoloa Village - 1113 Sleeping Rooms, ~56,000 Sq Ft Indoor Meeting Space
This 62 acre oceanfront resort is all about wide open space. This goes for the number of sleeping rooms (spread over three towers) and also for its meeting space. The 56,000 square feet is the largest outside of Oahu and the traditional layout makes the space functional and easy to use. Along with the large number of sleeping rooms, the actual size of the rooms are spacious with the smallest at a minimum 530 square feet.
From 2012 to 2017 the property underwent a much needed $200 million renovation to not only update the current space but to also add additional towers to the property. In 2018 they are doing additional renovations throughout the property including the Kona Pool area.
The biggest con to the property is its service compared to the standard of its competitors as well as the lack of a notable beach for guests. In substitute of this there is a man-made, inland lagoon where guests can use paddle boards, kayaks, etc. however, it does not compare to a large ocean-side beach.
Due to the size of this property they have their own Luau on site, canals and trams to get around, retail shops and multiple food and beverage outlets. They also have "a swim with the dolphins experience" and two golf courses right on the property. This is a family targeted resort with something for everyone including an adults-only pool.
Similar to the Marriott, this property has taken rooms out of the hotel pool and moved them into their Vacation Club for timeshare rentals. Over the next 3-4 years that project is expected to continue with additional rooms being moved from the hotel to the Vacation Club pool.
For a large corporate conference or association event this might be your top choice but for a small to mid-sized incentive trip there are better options on the island.
Editorial Disclosure: The editorial content on this page is not provided by any entity mentioned herein. Opinions expressed here are the author's alone, and have not been reviewed, approved or otherwise endorsed by any of these entities.
As is standard practice, our group of talented and experienced travel agents will often accept hosted stay invitations and hosted dinners and activities within destination in order to facilitate more detailed reviews.
All images by the author.