---
As more millennials move up in the workforce and baby boomers retire, this is a good time to refresh your employee engagement strategy. According to CNN, millennials expect to have four jobs by the time they're 32. This means that by the time it takes an employee to get fully ramped up (on average 18 months), he or she will already be getting ready to apply for their next job. Onboarding costs the company a lot of money and a lot of resources, so here are some tips on how to keep employees engaged in a genuine way:
First, keep it simple. Employees can sniff out corporate fluff before the words come out of your mouth. Talking about "vision", "infinity" and "credo", you may as well just be saying, "shareholder returns" and "MBA mumbo-jumbo." Sales reps are inspired by both tangible rewards and verbal accolades. Remember, most millennials have been hearing how great they are for most of their life, so you not only need to continue that positive reinforcement but also find a way to show them that actions A + B lead to reward C.

Second, keep your employees engaged through leading by example. Millennials care more about work/life balance than any other generation, and according to Market Watch, 55% of Americans don't take their full vacation time. Motivate your team by promoting the "Work Hard, Play Hard" concept. For example, millennials prefer incentives like half day Fridays in the summer, so inspire them to hit their 5-day goals in 4 to earn that perk.

Third, create a little competition. Millennials more than any other generation thrive in competitive environments, especially within a sales organization. Work hard to create a competitive yet healthy environment in which employees are constantly reaching for the next trophy, free lunch, bonus commission check, or incentive trip. If your company wants to focus employees on a single goal, think about using an internal competition or reward to meet that goal. When an employee feels appreciated for meeting a goal, they become more engaged and motivated, and in turn produce better results overall.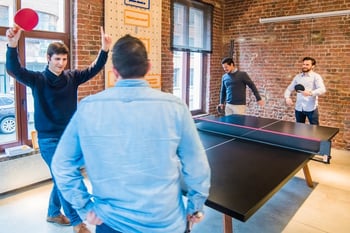 Photo by Proxyclick Visitor Management System
Moral of the story: employers need to actively motivate, provide the tools for employees to succeed at their jobs, and reward them when they exceed expectations. For millennials in particular, those rewards need to be thoughtful, unique, and memorable.
Here's a good article from Incentive Mag on The Evolution of Motivation:
http://www.incentivemag.com/Strategy/Engagement/The-Evolution-of-Motivation-and-Need-for-Personalization-and-Experimentation/


Editorial Disclosure: The editorial content on this page is not provided by any entity mentioned herein. Opinions expressed here are the author's alone, and have not been reviewed, approved or otherwise endorsed by any of these entities.