Fort Lauderdale has seen a recent increase in MICE business due to the recent improvements to their hotel product. Recent renovations along with new properties provides companies with plenty of options when looking for a warm weather location with affordable and frequent airlift.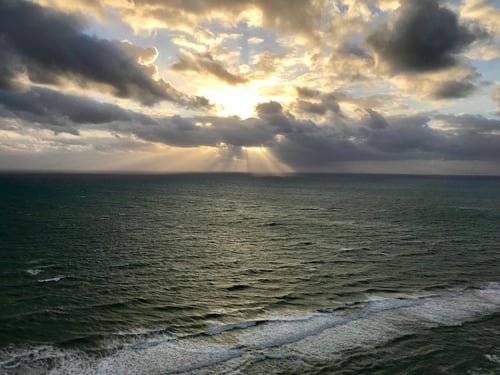 The Diplomat Beach Resort Hollywood - 1000 Sleeping Rooms, ~200,000 Sq Ft Meeting Space
This property is a truly large conference hotel with over 1000 rooms, 3 major ballrooms, and 32 breakouts. With that said, it has a very large corporate feel. Like most large corporate hotels it offers a vast range of good quality food and beverage options (albeit on the expensive side for the location). Not only are there restaurant outlets directly in the lobby but the property owns a small boardwalk-feel restaurant center across the street. This center has 3 or 4 additional restaurant outlets that you can bill back to your room account. They have everything from a high-end Asian fusion to a sports bar burger restaurant. There are plenty of food options for all of your attendees. They also have an awesome Speakeasy right on the property with high-end cocktails and a great lounge vibe. Your attendees would have no need to leave the Diplomat complex during their stay.
For a large sales conference this could be a great fit, think 400-700 attendees. For a conference under 300 attendees this hotel could be too big. In this case you could take over the some of the meeting space located directly under the guest rooms versus using the larger conference center facility next door. For a larger sales conference this could be an ideal pick. The meeting space was recently renovated and provides everything you would need from easy load-in to smart boards and quality catering menus.
The hotel bar is located directly in the middle of the lobby and is a great spot for attendees to come together to socialize. There are also couches located throughout the lobby that are setup for small group mingling and servers will come around and take drink orders throughout. This is a nice little perk for those looking for additional evening casual networking space.
The hotel rooms have been recently renovated and are impressive in décor and setup. The suites provide plenty of room for entertaining and an amazing sunrise view. The pools are everything you would expect from a large beachfront hotel. There is great pool and beach service on the property. Sadly, most conference attendees do not get the opportunity to enjoy these outdoor leisure amenities.
The outdoor entertaining space is plentiful for evening receptions, outdoor group breakfasts, and lunches. Plus, the vast meeting area provides plenty of backup space!
For a large conference with large meeting space needs, this could be the perfect fit in South Florida area. For a smaller corporate kickoff or retreat (under 300 people) this property could be overwhelming and you might be better positioned at the Conrad, W Fll, or even Margaritaville (depending on attendee demographic).
---
Hyde Beach Resort & Residences - 400 Sleeping Rooms, only 1 boardroom for meeting space
This could be a great property for a group who is looking for a leisure option with large guest room options or companies who bring families along. Unfortunately, there is no traditional meeting space, only a small boardroom. This property caters to an international guest target traveling more than the typical 2-4 night conference stay. Overall this property is not ideal or recommended for corporate travel, but is recommended for leisure options. If an executive team is looking to bring their families to a board meeting this could be the perfect option for them (under 10-12 meeting attendees).
---
Margaritaville Hollywood Beach Resort - 350 Sleeping Rooms, ~30,000 Sq Ft Meeting Space
This property will surprise many who expect more of a party scene but don't realize the large meeting space the hotel has. The meeting space has high ceilings, windows throughout the foyer, and a balcony for outdoor breaks! Instead of the dark or traditional meeting spaces you usually encounter, this property has a white beach house feel with trendy fish chandeliers and great ocean views from the ballroom foyer and many of the breakouts.
For the group that doesn't mind families and is looking for action post-meetings, this might be a great option for you. Keep in mind the property does have an adults-only pool and bar area for those looking to get away from children. This same space is a great outdoor welcome party option in the evenings.
The property is located right on the boardwalk with plenty to do only steps away. There is live music every night on the property at their Margaritaville restaurant, along with daily happy hours and late night bar options. There are plenty of bar and restaurant options on the property along with plenty to eat and drink only steps outside the hotel.
Overall, this is a great fit for a mid-range budget sales kickoff for 150-185 attendees, during the fall this number can raise to 250 attendees. Again, you need the right clientele who likes a property with action throughout. Obviously during school vacation periods, it will be difficult to book sleeping rooms on this property.
---
Ft. Lauderdale Marriott Harbor Beach Resort & Spa - 650 Sleeping Rooms, ~45,000 Sq Ft Meeting Space
This property has great features from their large resort pools to one of the few private beaches in the area. Given this property owns their own beach it allows for some great corporate dinners and team building events beachside, without having to apply for additional permits.
The rooms have been recently renovated and are what you would expect from a Marriott property. The gym has plenty of equipment for everyone and the spa is a great size.
Another highlight for this property is the 45,000 square feet of indoor meeting space. The space is bright and has great ceiling height. There is also a separate entrance for those just arriving for the day which keeps the meeting traffic out of the lobby. On top of that there is a renovated ballroom with beach and ocean views and a great sized terrace.
At this property there is plenty of meeting space both indoor and outdoor. The service is top-notch and the quality of the food is impressive. Due to all these great features, space is hard to come by during busy times so make sure you reach out with your RFP plenty of time before the event.
Overall, this is a great solution for a mid-sized corporate event with 100-400 sleeping rooms looking for evening outdoor space, and plenty of breakouts.
---
Conrad Fort Lauderdale Beach - 290 Sleeping Rooms, ~10,000 Sq Feet Meeting Space
This is a great new option to the Ft. Lauderdale hotel scene. If you are looking for a hotel for executive meetings, board meetings, or small company get-togethers this could be the perfect property for you. This property has contemporary décor throughout highlighted by the high-end and extremely large guestrooms. The rooms are a suite setup with great balconies, pull out couches, and large bathrooms.
The property also has a great pool deck for outdoor evening events or even afternoon pool relaxation.
The living room bar setup is a great space for networking each evening and a pre-dinner or post-dinner get-togethers. The seafood restaurant on the property is a high-end experience and perfect for a small group dinner.
For those without large meeting space needs this might be your preferred property over the traditional Ritz-Carlton right next door!
---
The Ritz-Carlton, Fort Lauderdale - 190 Sleeping Rooms, ~50,000 Sq Ft Meeting Space
For those looking for significant square footage for meeting space, the Ritz might be a good fit for you. The meeting space did not feel like anything special and felt a little outdated. The ballroom had a beautiful chandelier, however some of the ceilings felt low in the breakouts and there was no real highlight (other than size) in the meeting space.
The guest rooms have been recently renovated and add more of a beach-feel to the
Ritz. The gym is everything you would need on the property. The pool area felt very small compared to other hotels in the area and lacked convenient outdoor entertaining space.
Like most Ritz-Carlton's the service at this property did not disappoint and the banquet food is high quality.
Overall, if meeting space isn't your driver in hotel selection then you might want to look at the Conrad or the W for a better value. There was not much of a "wow factor" to this hotel.
---
W Fort Lauderdale - 430 Sleeping Rooms, ~40,000 Sq Ft Meeting Space
This is another strong option for corporations looking for mid-sized event space. The actual meeting space has recently been updated and a small ballroom has been added. Unfortunately, the Mingle room is a tough option for traditional meeting space as it has lower ceilings and pillars in the middle. The positive in terms of meeting space is that most breakouts have windows with natural light.
The major negative for this property is the speed of the elevators. This could present a major issue if you needed to move many attendees around at the same time. The elevators are extremely slow and appeared to always be full.
The rooms are new and renovated with the typical hip W vibe. There are two unique pools on the property that are great for attendees' have leisure time. There are also two defined outdoor group spaces that are perfect for receptions, breakfasts, and lunches.
The lobby brings people together for networking and offers a great bar and morning coffee/tea.
The W is a great option for a smaller, more intimate corporate group (under 100 attendees) due to location, meeting space, amenities, and recent renovations.
---
The Westin Fort Lauderdale Beach Resort - 432 Sleeping Rooms, ~40,000 Sq Ft Meeting Space
The highlight of the Westin property is the covered outdoor space for meals, receptions, and possible Gala dinners.
The food and beverage outlets on the property are everything you need. They do a great job with banquet meals and the service is attentive.
The guest rooms are the average rooms you would find at a Westin property. Some of the hallways have low ceiling height so it makes the space feel smaller. The property is in the midst of a 9 month renovation so the jury is still out on the final product. The guest room hallways need a major face-lift so let's hope this is accomplished during the renovation.
The meeting space is plentiful, updated, and everything you would need. The ballroom has great natural light, foyer space, and escalators for easy up and down foot traffic.
As mentioned, the jury is still out as they have not yet completed renovations, but this property has great potential given the space, location, and service.
---
B Ocean Resort, Fort Lauderdale Beach - 477 Sleeping Rooms, ~14,000 Sq Ft Meeting Space
The B Ocean property is an interesting space located beachside. The biggest letdown of this property is the low ceiling height in both the ballroom and the lobby.
Due to the setup of the ballroom this property would max out with about 100 attendees for a comfortable meeting with an AV setup.
The pool area is beautiful and located right in front of the beach. This property is well known for their mermaid show each evening in their hotel bar. It's definitely a unique experience if you are in the area on leisure travel.
Overall, the property was disappointing for corporate events in comparison to the rest of the Ft. Lauderdale portfolio.
---
Editorial Disclosure: The editorial content on this page is not provided by any entity mentioned herein. Opinions expressed here are the author's alone, and have not been reviewed, approved or otherwise endorsed by any of these entities.
As is standard practice, our group of talented and experienced travel agents will often accept hosted stay invitations and hosted dinners and activities within destination in order to facilitate more detailed reviews.
All images by the author.