---
Crucial to any group trip, planning for the unexpected can make or break the experience. Because there are so many variables with group travel, even the best laid plans can go astray. Most incentive trips organize and plan for the best case scenario while exceptional trips plan for the worst case scenario, allowing trip coordinators to seamlessly adapt the plan so participants hopefully aren't even aware of a deviation from the scheduled itinerary!
Here are three main factors to consider while planning your event:
Dietary restrictions & allergies

Mosquito/sun prep

Back-up space
---
Dietary Restrictions & Allergies
All group travel requires group dining in one way or another. Whether it's a full welcome dinner or boxed lunches for the afternoon, dietary restrictions and allergies will need to be taken into account. In order to have the most accurate and detailed information, we recommend including a section for dietary restrictions and allergies on each individual's RSVP email/registration. That way, as each attendee's is entered into your database, you can incorporate this crucial information for use at every stage of the planning process. This will come in handy when planning a group menu for a sit-down meal or labeling boxed lunches with allergen stickers. Nothing will ruin a reward trip for an employee faster than getting sick while on vacation.
Mosquito/Sun Prep
Great annoyances like mosquitos and gnats can turn a fun evening activity into one where participants want to leave early. Discuss the hotel's environment with event coordinators; they will know their property far better than anyone else. If mosquitoes are expected to be a problem (or it's a particularly mosquito-prone time of year), citronella tiki torches can be easily coordinated through either the hotel's recreation manager or property operations team.
Additionally, investing in a generous amount of sunblock/bug repellent and placing in high traffic areas of the resort will ensure that your group isn't having to worry about annoying details--like where the nearest drugstore is--while on vacation. Making bulk buys of these products prior to the trip or even on location will save participants the trouble and also help on budget.
Back-Up Space
When negotiating contracts with many hotels, it has become commonplace to have a "weather site" planned ahead of time (and often without charge). The event planner and hotel both want the trip to run as smoothly as possible, so back-up plans are something that both sides have a vested interest in. One important tip: discuss the back-up site with the hotel coordinator during your site visit. It will give you more information about your options, but more importantly it will also give you more time to negotiate a particular location into the contract. Waiting too long may result in your chosen location already being claimed by another party. The alternative is usually a tent but that can add significant costs, so if the trip's budget is closely managed make sure you work with the hotel to secure a complimentary back-up space well in advance.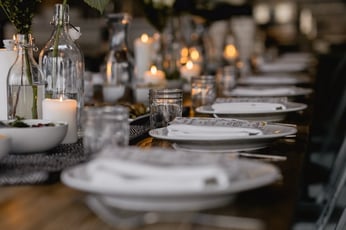 Photo by Nadia Valko
In the end, don't let something as random as weather ruin an experience that has taken months of planning and tens of thousands of dollars to coordinate. Simply put, create a Plan B that's just as desirable as Plan A so your guests will be none the wiser if something doesn't go as originally planned.


Editorial Disclosure: The editorial content on this page is not provided by any entity mentioned herein. Opinions expressed here are the author's alone, and have not been reviewed, approved or otherwise endorsed by any of these entities.