---
In 2020, you would assume the answer to this question is yes. And for the most part, that's right. Technology in the meetings and events industry has transformed over the last 5+ years with smartphone apps, websites, and on-site displays. However, despite providing attendees with all of this technology (from event websites to agenda apps, and even screens displaying throughout the property), there's still feedback that certain guests miss hard copy agendas. The days of printing agendas for every attendee are over, but if you find it necessary to provide hard copies for some, we recommend printing 20% of the attendee number. If you run out you can always print more on site.
The main benefit of having your agenda online is the ability to make live updates. Our world is more unpredictable than ever, so this is an increasingly important aspect in event planning. When COVID-19 started to impact everything earlier this year, we were able to update itineraries and communicate with clients as soon as changes happened. This is crucial, especially when planning for a large group traveling from all over the world. Even when things are going smoothly though, apps and event websites are the most streamlined way to communicate effectively with large groups of attendees.
Mobile Apps: If you have a generous event budget or are looking to host a user conference, then a smart phone event app has become the new standard. One major value of an event app is being able to setup personalized agendas for each attendee. Another obvious benefit is being able to communicate schedule changes by having them immediately reflected in the app. A few companies specialize in the event app space in particular (Attendify, CrowdCompass, WebMobi) but depending on the event, the price tag for these services can still be high. Many of the apps have limitations and are targeted towards specific types of events; however they also have native integrations so users don't need WiFi or cell service to access them when on site. This is a great feature, especially if your event is overseas or the WiFi at the conference can't meet the user demands. Mobile apps have robust features, handling anything from simple agendas with conference messenger services to feedback options, live maps, and attendee profiles. These apps provide a way to optimize communication and increase engagement during your event.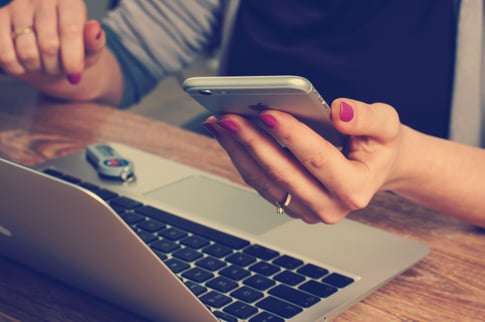 Photo by William Iven
Websites: In 2020, if you are hosting an event over 25 attendees you should have an event website. These websites replace the need for multiple emails and hard mail to attendees. It's a great place to provide agenda details, dress code, and FAQs, which significantly cut down on emailed questions. If you receive a good question from an attendee, don't be afraid to add that question to the website's FAQs as well. Chances are more than one person will have the same question. The more content you can provide to attendees, the better the overall experience will be, as they will feel informed and more prepared. Event websites are extremely low cost yet provide endless value for both the attendee and the meeting planner.
Here are a few examples of websites for both Incentive Travel and Sales Kickoff events:

Smart TVs/Screens: There have been great improvements with on-site displays at many hotel properties. What used to be a USB load to a screen outside a conference room can now be run through WiFi and changed instantly. You no longer need to edit the document on your computer, save it down to a USB drive, and load it on the screen, just to show a quick update. You can now make that update and seconds later have it reflected on the screens.
Boston Park Plaza has a simple feature of showing the event's daily agenda along with a map of the meeting space on each guest room TV when guests check-in or turn their TV on in the mornings. Small technology feature but also a great perk for a meeting planner or internal corporate planner.
In order to keep up and compete in the MICE market as a meeting planner, you need to stay ahead of tech enhancements. The simple agenda printout at check-in is no longer enough, as attendees want quick access to information on their phones.

If you'd like to hear more about the current tech trends in incentive travel, feel free to reach out to us:
Editorial Disclosure: The editorial content on this page is not provided by any entity mentioned herein. Opinions expressed here are the author's alone, and have not been reviewed, approved or otherwise endorsed by any of these entities.
As is standard practice, our group of talented and experienced travel agents will often accept hosted stay invitations and hosted dinners and activities within a destination in order to facilitate more detailed reviews.