Attrition, what does it mean and how to contract it.
First, what does attrition mean in terms of hotel contracting? For this article we will focus purely on Rooms Attrition and not Food and Beverage Attrition. Usually F&B attrition will be in line with the rooms attrition. You can find an example at the bottom of this post.

The easiest way to understand attrition is that hotels have the right to charge a penalty if the actual event uses less rooms than originally booked in the hotel contract. The hotel contract will include an attrition clause which tells you the number of rooms you can release without penalty. Two things to pay attention to: the % or actual number of rooms you can release and the deadline or specific dates that those releases need to happen by.

With attrition, it is imperative to make sure the contract includes a clause stating that if the hotel is sold out then attrition is null and void and no penalties are to be paid. Also you may want to ask for the daily pickup report from the hotel to confirm how many rooms were in inventory that could be sold (they should not include rooms that are under construction or unable to be used), and how many were occupied.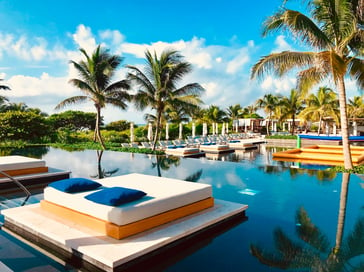 What are some different types of attrition?

1. Revenue Attrition - Revenue attrition is based on a calculation of the hotel's expected room revenue. Essentially the hotel will multiply the number of total rooms contracted by the rate for each of those rooms. This will give you the expected room revenue and the starting point.

For revenue attrition clauses we have seen the allowed slippage percent to be anywhere between 10% and 20% historically. If we take 10% for this example and our total room block expected revenue is $100,000 then we can lower by $10,000 and our commitment is $90,000 for actual room revenue. Taxes & Fees are not included in the expected revenue and you should not pay attrition on taxes & fees. In the case of a room block with multiple room categories you might find it beneficial to upgrade additional attendees if you are going to fall below the room revenue.

As a company we prefer this attrition policy as pre and post room night pickup is included in actual room revenue versus expected room revenue. It allows more freedom for last minute upgrades and less chances of feeling as though the company is "wasting money" on unused rooms.

2. Cumulative Attrition - Our next preferred attrition clause would be the cumulative attrition. This type of attrition is based on the total room pickup for the room block. Example: if the contracted room block is 100 rooms per night for 3 nights, and attrition is 10% then you may lower your total room commitment to 270 room nights. This is advantageous if you ensure in this attrition clause that the pre and post night room pick counts towards total room block. Also, if the group has 110 rooms actualized each of the first 2 nights and only 60 guests decide to stay for the final night of the program, you still would not be in penalty as it's cumulative room night pickup. This attrition policy allows for more flexibility than the per-night attrition. Be aware you might also see the specific number of nights you can decrease in the contract versus a percent but the cumulative attrition policy still works in the same manner.


3. Per Night Attrition - Attrition is calculated based on room pickup each night. Example: if the contracted room block is 100 rooms per night for 3 nights, and attrition is 10% then each night you may lower your room commitment by 10 rooms to 90 rooms per night. Anything under 90 rooms you will be responsible to pay a penalty (unless the hotel is sold out). If in this case you have 20 guests who decide to come early one night, but the total nightly pickup is only 85 rooms, this clause does not allow you to put those 20 room nights of pre arrival pickup towards the 5 rooms you are short each night. Therefore you would be forced to pay a penalty of 5 rooms per night even though your Total Room Commitment is higher than the original contracted room block.
This is our least favorite of all three types of attrition clauses and you should negotiate as best as you can for cumulative or revenue attrition. Some per night attrition clauses could also effect commission clauses as the pre and post nights are not always picked up towards commissions.

Below is an example of a strong attrition policy that companies should push towards in their upcoming hotel contracts:

"Hotel is relying upon XYZ, Inc.'s use of the Room Night Commitment. XYZ, Inc. agrees that a loss will be incurred by Hotel if XYZ, Inc.'s actual usage is less than 80% of the Room Night Commitment. Pre and Post room extensions will count towards the room-block. Rooms picked up by XYZ, Inc. outside the room block will not count towards the Room Night Commitment.

If XYZ, Inc.'s actual usage is less than 80% of the Room Night Commitment, XYZ, Inc. agrees to pay, as liquidated damages and not as a penalty, the difference between 80% of the Room Night Commitment and XYZ, Inc.'s actual usage, multiplied by the average group room rate."

One thing to note is that this clause does not specify if the 80% is at cut-off date or check-in date, it just states actual usage which can be confusing. For the client the best case scenario is check-in date but many hotels may assume cut-off date in this clause. To be on the safe side it is important to specify if it is actual usage or if it is pickup at Cut-Off date.

Example of F&B attrition: Hotel is relying on, and Group agrees to provide, a minimum of $50,000 of total food and beverage revenue less 20% attrition. If Group's total actual food and beverage revenue slips below this amount, Group agrees to pay (as liquidated damages and not as penalty) 40% of the difference between the agreed minimum and the actual total food and beverage

Here are a few requirements that relate to attrition that we like to see in all of our contracts:
Allow Resell Clause.
Cumulative and Revenue Attrition includes pre and post.
When 100% attrition is paid, commissions are paid on that full amount.
Credit for all rooms booked by our group towards attrition. Even outside rooming list.
US Department of State or CDC Level 3 Warning or Higher, reconsider travel allows client to lower room block based on attendee cancellations.
Editorial Disclosure: The editorial content on this page is not provided by any entity mentioned herein. Opinions expressed here are the author's alone, and have not been reviewed, approved or otherwise endorsed by any of these entities.