Unfortunately emergencies do happen on President's Club trips and that is why it's important to have strong partners to help you through those situations.

I've sat through over 50 pre-cons over the years and never really paid too much attention to the Lost Prevention team. Usually being at 5 star hotels we feel so safe and comfortable that security presence doesn't seem important. Most people never want to think of the 'what if' situations when they might need the medical team. Of course we use the on-call doctor almost every trip but to me we always took that for granted as it's been a service that was always provided. Lost and found is a given, we visit that team at least 3-4 times a trip.

But it's when something goes wrong you really begin the appreciate that LP team and more importantly what a significant role a good Lost Prevention team can play.

On a recent program at the Ritz Aruba at about 10pm after the event had ended a few guests had stayed around chatting while the Ritz-Carlton banquet team was cleaning up. Unfortunately while sitting at the table chatting one of the guests experienced what looked like small seizes and went unconscious for a minute or so. The Ritz banquet team sprung into action and immediately contacted the LP team over their radio. While the group waited for their arrival they assisted one of the attendees who was a nurse and used their training to provide support. Fortunately the guest regained consciousness and the LP team moved the guest to an appropriate area and checked the guest's vitals. They recommended a hospital visit and almost immediately had pulled up their black SUV to transfer the guest, his wife, and the travel agency. Upon arrival to hospital the LP team member was there helping the entire process and was very familiar with the hospital and its staff. That Lost Prevention employee stayed with the guests for over 6 hours at the hospital before transferring them home. Then for the next 3 days they constantly checked on the patient, with additional fluids and even had the on call doctor get involved. They kept the travel agency updated every check-in and truly went above and beyond. This is why it's so important to partner with strong, service-oriented hotels such as the Ritz Carlton. At no time did the Ritz ask for payment for the black car transfers or for the fact that their employee ended up working an additional shift to sit with us at the hospital or even for any of the additional hotel check ups or fluids/snacks, etc. Obviously, you never plan for emergencies but it's so important to have a strong Lost Prevention partner to help when one does occur. The Ritz-Carlton Aruba should be commended for their job well done!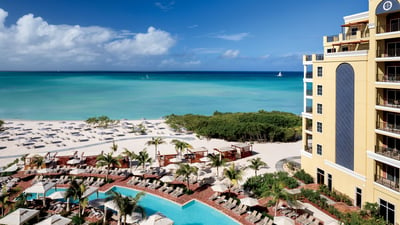 This experience left me with 5 important recommendations for any meeting planner:

1. Make sure your host hotel uses radios and that radios are always on site and charged up for evening events. It would have taken a good 6 minutes for someone to run back to the main lobby and who knows how much more time to find the LP team member on duty. Being able to radio from the event saved significant time and can be helpful in many situations.

2. Before any trip, work with the hotel to find out if there is a doctor on call, if so the doctor's hours and the best way to quickly communicate with them. Make sure you get clarification on payment options for the doctor. If cash is required make sure there is always petty cash on hand with the travel coordinator on site. Some hotels allow you to charge medical services back to the master so make sure you clarify this ahead of time in the pre-con.

Also find out where the closest hospital is, find out the closest clinic, and most importantly find out how an attendee can call for emergency services. Make sure that information is on everyone's itinerary. We take for granted in the US 911 is universal but once you travel overseas that is not always the case.


3. Finally, before any trip you should find out the host company's insurance policy not only in regards to healthcare on the trip but also emergency services. Make sure you define who is covered and what is covered on the trip. Make this information available to every attendee and guest. Talk through the emergency evacuation plan with the company. If an attendee needs to be airlifted who would be covering that cost and what is the payment method? Unfortunately when situations do occur it's too late to research and get these answers. Make sure you plan ahead of time.

4. Collect emergency contact information and allergies/medical conditions for every guest in attendance. If something does happen it's important to have quick access to their contact and more importantly if they have a medical condition such as asthma, etc it's important to know ahead of time. The more information you can provide at a hospital the better.

5. Finally, you should make sure the hotel that is hosting the event (especially when dealing with a user conference or sales kickoff event) has an AED machine that is easily accessible, tested frequently, and always charged. Along with the machine, it's important to have a someone on property that is trained to use it. In the past few years there's been a huge push to make sure every school has a working AED machine and the hotel industry should be focusing on the same.


Obviously you never want anything to happen on a celebratory trip, but unfortunately emergencies are out of a meeting planners control. The best advice we can give is to always be prepared. The difference between 3 minutes and 10 minutes can save a life so the more you plan ahead of time the easier it is to cut down on reaction time during emergencies.