Overall Jamaica is a somewhat disappointing location in terms of hotel products for MICE travel. The hotel product is a step down from Cancun and Punta Cana and unfortunately the service is a further step down. The beaches lack the beauty of Punta Cana and the hotels lack the elegance of the 5 star Cancun/Riviera Maya properties. The one benefit is the water/food is a step up from the two other locations. Guests are less likely to get sick but still encouraged to only drink bottled water. The airlift is also a little quicker from most East coast cities.
---
Hyatt Ziva/Hyatt Zilara, 623 Sleeping Rooms, 18,000 Sq Feet Meeting Space
This property has done quite the turnaround over the last 12 months and overall a great option for your next incentive trip. The room product has been recently renovated, staff has been retrained, the pools are plentiful, and the food is a good quality for an all-inclusive experience. The CSM's have turned over and the new team was flexible, understanding and took initiative which is important in a place such as Jamaica. The house band is insanely good which leads to overall entertainment being a step above most all-inclusive hotels. You can also rent out the house band despite it being a little pricey for a short time period.
The new gym at Hyatt Ziva is one of the best we have experienced in the Caribbean. The new Hyatt Zilara spa is a perfect location for a luxury oasis feel.
Most of the restaurants and bars are located at Hyatt Ziva so don't shy away from that property for incentive travel. It has everything you need in one place. The Zilara room product is a step up but the staff still isn't perfect but at least they had a smile on their face during most interactions. We had a few room issues that were solved but slower than it should have taken. The beach is also a little disappointing for a Caribbean beach but you still can enjoy the ocean and lounge on beach chairs.
Another bonus is location to Montego Bay airport and the quick and easy 15 minute drive and Hyatt's shuttle service. Don't forget the Hyatt even has its own arrival lounge at the airport which guests love!
Overall a B+ experience and I would recommend both of these options for upcoming Incentive Trips. This is one of the few shining stars we have found in Jamaica for the MICE space.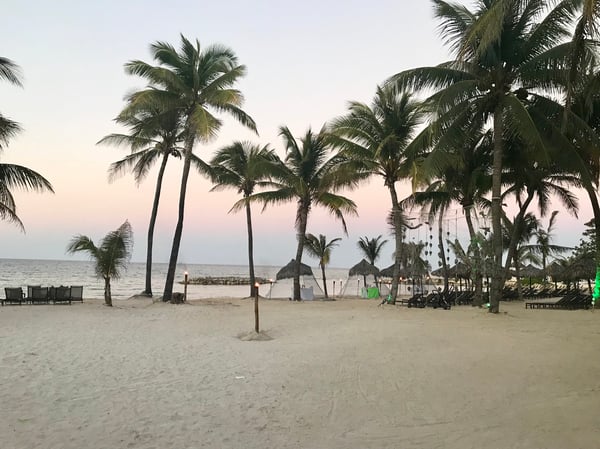 Moon Palace, 705 Sleeping Rooms, 20,000 Sq Feet Meeting Space
This property was a disappointment overall. The service was below average, the rooms were nothing special, and the restaurants were below expectations.
The spa and gym is the best part of this facility. The Awe Spa water experience competes with some of the higher end facilities worldwide and is one of the top spas in Jamaica.
For those with families, there are plenty of pools and activities for families throughout the day, along with a great kids and teen club on property.
The meeting space is on the larger size for a hotel in Jamaica which is one bonus and there are plenty of rooms if you need a property with 500+ rooms.
Also one important thing to keep in mind is that the distance from the Montego Bay airport is over 90 minutes and it's not the most comfortable bus ride.
Overall a C+ experience.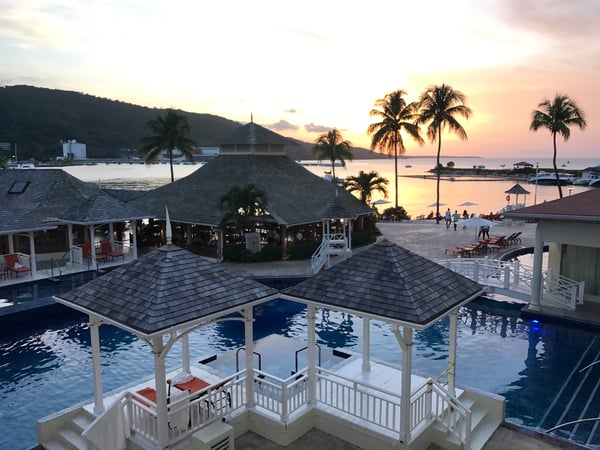 Breathless, 150 Sleeping Rooms, 9,000 Sq Feet Meeting Space
This property was a pleasant surprise and a great fit for a young, small, hip group looking for a small space to be together but still have access to a wider range of amenities. Think firepits, music all day, private whirlpools on balconies, cabanas, specialty cocktails, and contemporary rooms with state of the art technology.
The main pool itself is large, clean, and enticing to enjoy an afternoon. There is a second smaller pool for the daily foam parties so that those who are not interested in joining foam parties still have an option to enjoy the larger pool.
You share the gym and spa with the Secrets across the street which has everything you need.
Additionally, you have access to a private beach club for Breathless guests only or you can venture to the Secrets St. James beach. For another dining option, there is a grill area located at the Breathless beach!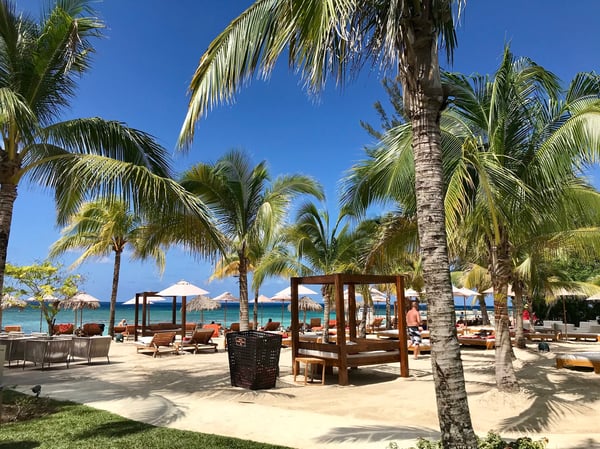 This property is not for someone looking to go to sleep at 8pm. They have something happening each evening and guests also have access to the Secrets nightly entertainment. This property, combined with Secrets has some of the best entertainment we experienced in Jamaica. Again their house band was top notch!
One of the biggest highlights of this property is the rooftop lounge with relaxation pool. At night this area is open to all Breathless guests and serves dinner and sometimes hosts evening parties such as a Silent Disco or Fashion Shows, etc. During the day the rooftop lounge is only open to xhale club members who book specific room types but at night it's open to all Breathless guests.
The meeting space is very limited for this property as it is truly an incentive focused couples property. ** FYI - The property only has ~20 double bed rooms. But on the positive side it is Adults-only!
The property is located 25 minutes from the Montego Bay airport.
Overall a B+ experience and would recommend for a young group looking for a boutique all inclusive experience… But don't forget you still have access to most everything Secrets larger property offers right across the street!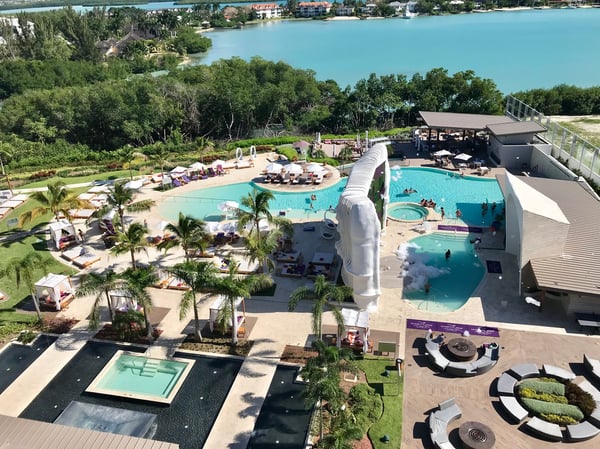 Secrets Wild Orchid/St. James Montego Bay, 700 rooms, 16,000 Sq Feet Meeting Space
A much larger property that we don't see as a player in the incentive travel world for young tech companies. The two properties are spread out over a large distance and therefore not as easy as the other hotels for group "natural socialization."
It seems the target is an older clientele on vacation for 7-10 days versus the technology company sales rep who is on property for only 3 nights. It is a huge perk for Breathless guests to be able to use the food and beverage outlets at this property during their stay. There are 7 restaurants and 10 bars and lounges for guests to add to what Breathless has also.
This property is adults-only which is great for incentive programs in which families are not invited.
Overall a B experience but just not the right vibe for the technology industry.
Hilton Rose Hall, 495 Sleeping Rooms, 14,000 Sq Feet Meeting Space
This is a property that needed a little love but the recent renovations (completed in 2017) might have turned this around and brought the Hilton back into the conversation for a mid-range budget incentive program or sales kickoff event.
The pool area is great for families with a lazy river, water slide, and bobsled slide. There is a second more quieter pool targeted towards the adult traveler. Another positive result of the renovation is that they extended the beach area for guests to enjoy. The new design is sleek and modern and could be an attractive option for incentive trips with families. Even the dining options were upgraded during the renovation. Overall the property is still a step behind the Hyatt options but the renovations have brought it back into the conversation.
The staff has room for improvement along with the spa, fitness facilities, and some of the dining outlets.
The jury is still out on whether the renovations were enough to make this property a viable option in mid range budget incentive travel. A recent ownership change could also impact service so keep an eye out for changes now that Playa Resorts is involved.
Overall a B- experience.
---
Left out:
We haven't forgot about Half Moon. It's a viable option for incentive travel in Jamaica but is not a traditional all-inclusive as the rest so we have kept it out of these reviews.
Half Moon, 388 Sleeping Rooms, 24,000 Sq Feet Meeting Space
Also if you are looking for purely incentive travel, check out Round Hill Villas. Similar to Half Moon this property is not all-inclusive but does offer a breakfast option. This is a truly luxury experience for groups looking for leisure versus meetings. This property has 36 Ralph Lauren designed oceanfront hotel rooms along with 27 private luxury villas. The villas range from 2-6 bedrooms private estates and could be the perfect option for the right corporate retreat. Think private pools, game nights, karaoke parties, and plenty of time for relaxation. Also do not forget villa guests also have full access to the hotel amenities including the watersports, fitness center/tennis courts, spa, and beach area.
Editorial Disclosure: The editorial content on this page is not provided by any entity mentioned herein. Opinions expressed here are the author's alone, and have not been reviewed, approved or otherwise endorsed by any of these entities.
As is standard practice, our group of talented and experienced travel agents will often accept hosted stay invitations and hosted dinners and activities within destination in order to facilitate more detailed reviews.
All images by the author.