Five Large Meetings Hotels with over 14,000+ Square Feet of Meeting Space. These properties are also a great fit for Incentive Trips that need over 60 sleeping rooms as they have appropriate space for group breakfasts and event backup space.
1. Four Seasons Ritz - 282 Sleeping Rooms, 45,000 Sq Feet Meeting Space
2. Tivoli Lisboa - 306 Sleeping Rooms, 17,000 Sq Feet Meeting Space
3. Epic Sana - 311 Sleeping Rooms, 30,000 Sq Feet Meeting Space
4. Intercontinental Lisboa - 331 Sleeping Rooms, 14,000 Square Feet Meeting Space
5. Ritz-Carlton Penha Longa - 194 Sleeping Rooms, 30,000 Sq Feet Meeting Space
---
Full Review:
1. Four Seasons Ritz - 282 Sleeping Rooms, 45,000 Sq Feet Meeting Space
Overall the Four Seasons provided 5 star service in a old historical hotel. Is this hotel in need of renovations, yes but the old historical feel of the rooms and common space is charming.
The gym, indoor pool and spa facilities are renovated and beautiful.
The daily breakfast was incredible.
The concierge some of the best ever experienced.
The rooftop views inspiring, just wish there was a bar setup or lounge versus a running track on the top floor.
The room balconies were perfect to enjoy fresh air and park views.
The rooms and bathrooms are extremely large for European standards.
The amenities top notch.
One challenging part of this hotel is that smoking is allowed within the bar area inside the hotel.
The second challenge is the location. Unfortunately there are very limited good food options for lunch or dinner within a few minutes walk to the hotel. Given the cost of food at the Four Seasons many guests want to grab a quick bite within 5 minute walk but struggled to find good options.
For a Four Seasons property this is one of the top 5 in value for your spend for group events. The nightly rate in 2017 was under 250 EURO including breakfast and you still have a five star experience. Unfortunately given how hot the destination is right now, these prices will increase significantly over the next 18 months.

2. Tivoli Lisboa - 306 Sleeping Rooms, 17,000 Sq Feet Meeting Space
This property has just completed a major renovation this past spring which has lightened up the common spaces. Despite being less than a mile from Four Seasons, Epic Sana and Intercontinental this property's location is the best of all the options. It is located on the famous shopping street Avenida da Liberdade but also walking distance to great restaurants, tourist attractions and the waterfront.
The outdoor pool/garden area is quiet and relaxing. This area is great only if the weather is good as it only receives sun for a portion of the day.
The Sky Bar rooftop lounge is one of the best in the city and is now open year round with a covered portion for private dining and event.
The rooms are average size for European standards but new and updated. For incentive travel with guests requiring two single beds, the room is tight.
The gym is located in the basement without any windows and in need of updates.
The breakfast buffet in impressive and even includes a Mimosa and Bloody Mary bar each morning.
The service is consistent and friendly.
The meeting space is well thought out and located in a separate building near the pool area.
There is a bus stop and metro stop right outside the hotel which is a huge bonus for those looking to get outside the city center.
There is no real spa on this property which is the only major drawback for Incentive Travel.
Overall a great hotel based on location and rooftop restaurant/bar offering (seasonal).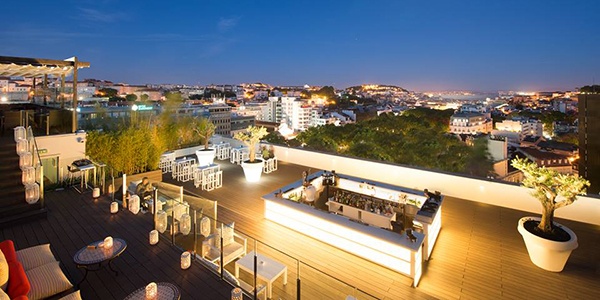 3. Epic Sana - 311 Sleeping Rooms, 30,000 Sq Feet Meeting Space
This property is the newest of the properties and most contemporary having been built only in 2013. From the moment you walk into this property there is a Wow factor about it. The only drawback for this property is both pricing and location. The pricing was the highest of all five properties and the location is a good 30 minute walk from restaurants and tourist attractions. It is located a quick 5 minutes walk from the Four Seasons and Intercontinental hotels.
The outdoor rooftop pool and bar has some of the best views in the city.
The poolside service is top notch and an experience you won't forget.
The indoor pool and spa is 5 star and locker room facility is great for early arrivals.
The breakfast is impressive and not only buffet but also endless amounts of made to order options.
The lobby bar is young and vibrant.
The hotel is up to date with technology.
Significant meeting space with higher ceilings and lots of lightening.
The front entrance is located on a busy street and the view from that side of the building is of a construction dirt pile.
The rooms are on the smaller side compared to the other properties.
Being a new property, there sales team is still learning and improving in terms of service.
Overall another 5 star hotel for a younger clientele. The spa, pools, breakfast and technology are 5 star from the minute you walk into the hotel. The main drawback for this property is location and group pricing.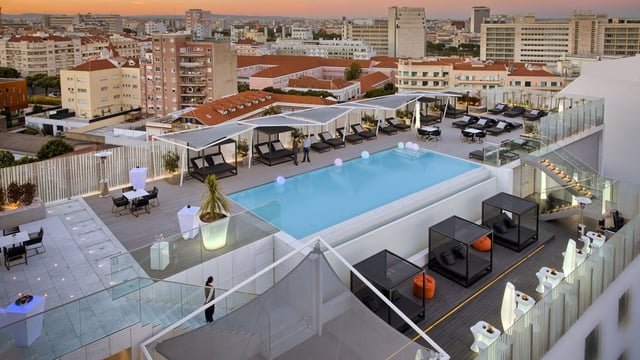 4. Intercontinental Lisboa - 331 Sleeping Rooms, 14,000 Square Feet Meeting Space
This property is located next to Four Seasons and Parque Eduardo VII. It is a traditional property and a great fit for meetings over incentive trips. It is located a decent walk (~20 minutes) away from restaurants and bars.
Overall a traditional property that lacks the Wow factor but reasonable in pricing.
Plenty of meeting space for most mid size groups.
Newly refurbished rooms.
Unfortunately compared to the other properties this facility lacks a spa, indoor pool or additional public outdoor entertainment space but it is a good option for a budget friendly meeting.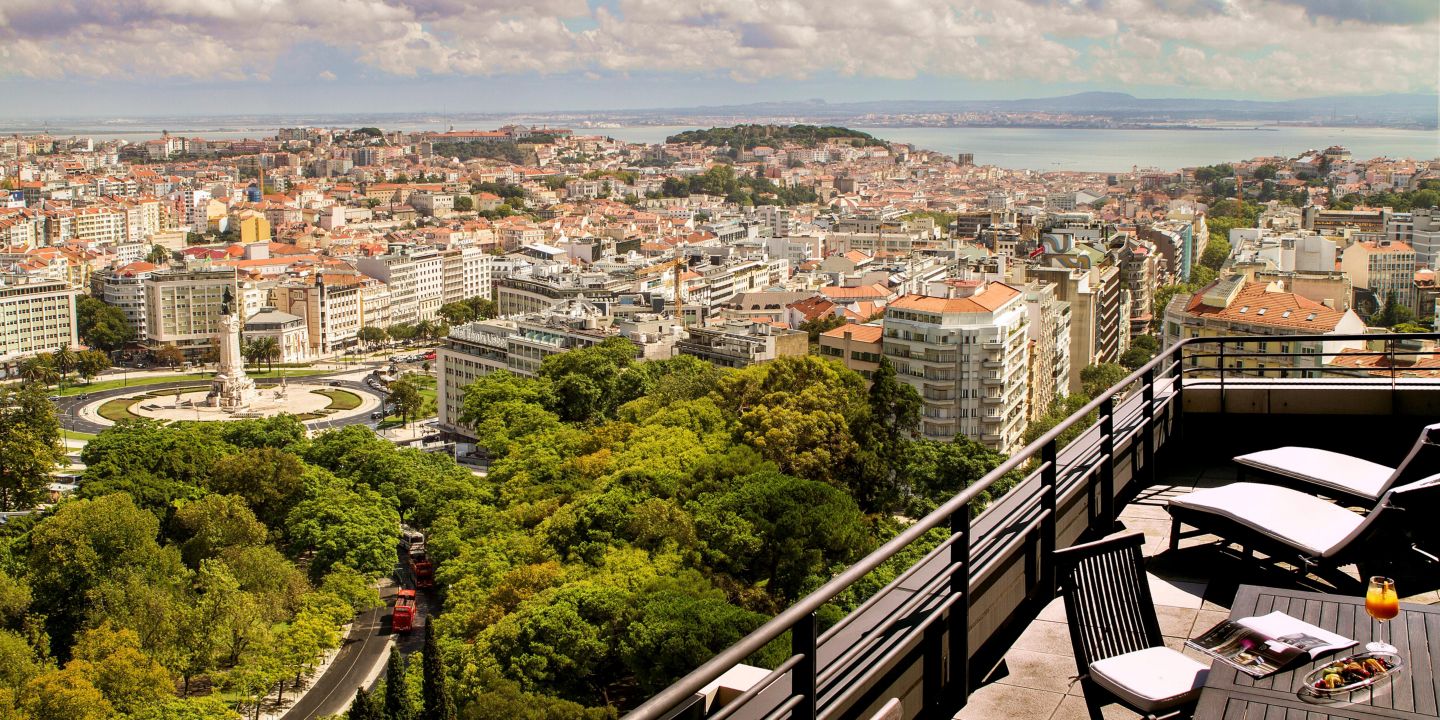 5. Ritz-Carlton Penha Longa - 194 Sleeping Rooms, 30,000 Sq Feet Meeting Space
Despite being located almost 30 minutes outside of Lisbon, this property is a luxury resort in historic estates. For those looking for a golf resort or able meeting space this property is the perfect fit. Not only are there 27 holes of golf located right on property but also a world-class spa, Michelin star restaurant and almost two hundred guest rooms.
The spa is incredible.

The poolside service impressive.
Meeting space bright an flexible.
Property has both indoor and outdoor pools along with a great fitness center.
The rooms are larger than traditional European hotels.
The only drawback is the distance to Lisbon city center but the numerous activities make up for it.
The price is consistent with the Four Seasons downtown but the Ritz is a more updated and luxury property.
Overall a great option for a golf incentive group and a meetings group from Europe or the East Coast. You will leave impressed with both the luxury property and the five star service. We did prefer the friendliness of the Four Seasons sales team over the Ritz sales team in our experience.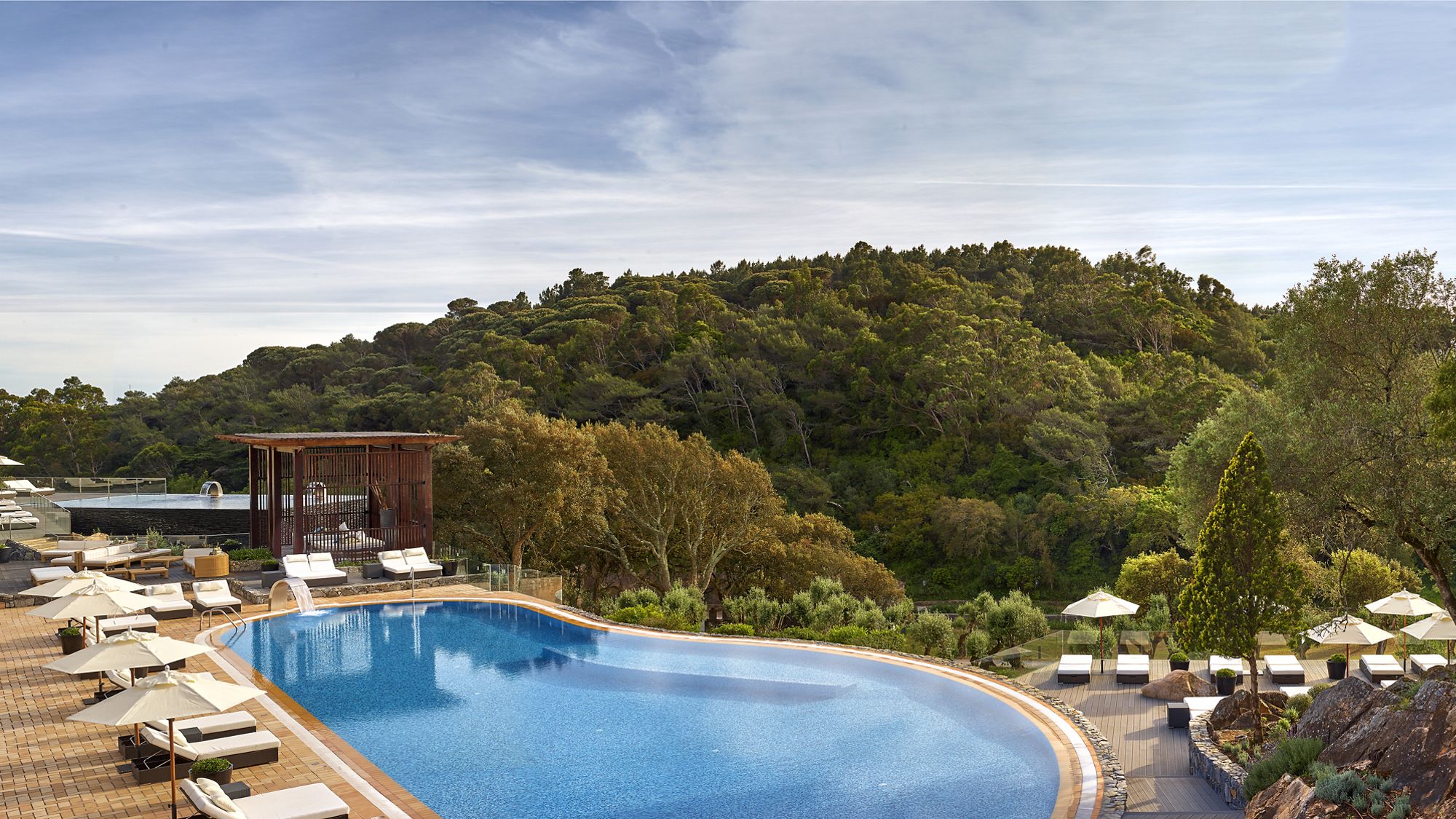 ---

Three Boutique Incentive Focused Hotels:
Sofitel Lisbon Liberdade - 163 Sleeping Rooms, 4,300 Square Feet Meeting Space
Pestana Pousada de Lisboa (Leading Hotels of the World) - 90 Sleeping Rooms, 3,000 Sq Feet Meeting Space
Olissippo Lapa Palace - 109 Sleeping Rooms, 7,000 Sq Feet Meeting Space
---
Editorial Disclosure: The editorial content on this page is not provided by any entity mentioned herein. Opinions expressed here are the author's alone, and have not been reviewed, approved or otherwise endorsed by any of these entities.
As is standard practice, our group of talented and experienced travel agents will often accept hosted stay invitations and hosted dinners and activities within destination in order to facilitate more detailed reviews.