The Florida Gulf Coast has a long list of hotels for MICE travel. Unfortunately the product has been a tougher sell when compared to Miami/Fort Lauderdale region of the state. A few renovations to highlight are Hilton Marco Island, JW Marriott Marco Island, Don Cesar, Vinoy, Hyatt Regency Clearwater, and Tampa Marriott Waterside. The Tampa hotel product is constantly improving with a new JW Marriott and Marriott Edition breaking ground in 2019. For those who need less meeting space they can move outside the city of Tampa and closer to one of the beautiful beaches in the area!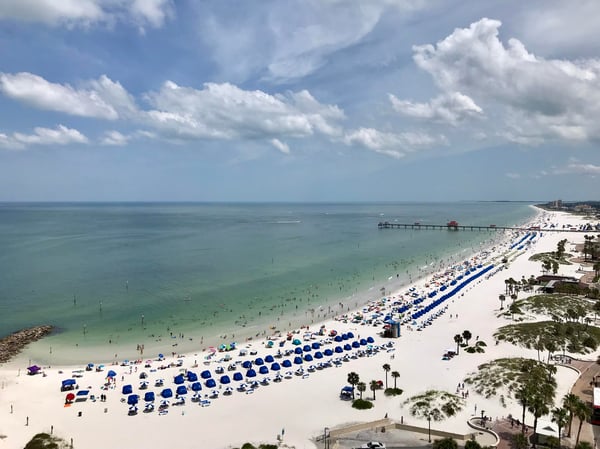 The Don CeSar, 3.5 stars, 275 Sleeping Rooms, ~22,000 Sq Feet Meeting Space
This property was disappointing based on the attention it receives as the famous pink palace. It lacks traditional and useful meeting space which is essential for MICE travel. Secondly, most rooms do not have balconies, just small windows. This created a dark feel in the rooms which is disappointing for a beachfront hotel. The rooms were average and did not stand out compared to the other properties in the area.
The pools on this property were just average for a luxury resort. The check-in area is almost non-existent and service was spotty throughout.
The highlight of this property is the size of the beach located in front of the hotel. There is plenty of room for large beach events.
Unfortunately overall this property disappointed based on the historically high expectations.
---
The Vinoy Renaissance St. Petersburg Resort & Spa, 4 stars, 362 Sleeping Rooms, 42,000 Sq Feet Meeting Space
Unlike the Don, this property was a pleasant surprise. There is still work to be done over the next 9 months as they are creating a much larger spa area, moving the gym, and renovating the rooms in the main tower. With that said the hotel is moving in the right direction to become a viable option for corporate events in the Tampa/St. Pete area.
The renovated tower of rooms have a contemporary hip feel. The pool area is small but for corporate events this might not be a large factor. There is also a private golf course hotel guests can use only 10 minutes away.
The main ballroom is vast and unique. The chandeliers are impressive, the foyer space is large, and the room has a great historical feel.
The food and beverage has some room for improvement but with renovations happening that is the hotel's next focus.
The property has great outdoor space for corporate receptions, including a private garden area, a second floor terrace above the meeting space, and the hotel bar's streetside outdoor patio.
Another perk of the hotel is the great location downtown, as it is a close walk to museums, bars, restaurants, and shopping for guests looking to get off property.
---
Hyatt Regency Clearwater Resort & Spa, 3.5 stars, 287 Sleeping Rooms, ~11,750 Sq Feet Meeting Space
This recently renovated (2018) property is a unique space in the center of Clearwater beach with a decent-sized meeting space. Unfortunately there is limited outdoor meeting space for group breakfasts and lunches. The meeting space is impressive for the layout of the hotel and recently underwent a renovation to bring a bright clean look. There is an outdoor rooftop terrace with a hot tub for corporate receptions but it is limited in size. It's a great option for receptions versus outdoor meals.
The hotel leisure amenities are limited in terms of spa, gym and pool area.
The guest rooms are vast as most rooms come with kitchen amenities and large balconies.The décor is nothing special.
Overall for a lower budget event this could be a good option!
---
Wyndham Grand Clearwater Beach, 3.5 stars, 343 Sleeping Rooms, ~25,000 Sq Feet Meeting Space
This new property, opened in 2017, is a great fit for leisure travel but could be more challenging for corporate events. The meeting space is impressive with high ceilings, comfortable chairs, and good lighting. Unfortunately the foyer is on the smaller side with no great outdoor terraces for breaks.
Sadly there is actually no outdoor space for any events. The only option is the main pool deck which the hotel would have to close for all guests. There is only one pool for all guests at the resort.
For a small group this could be a good option or for a group that doesn't mind staying indoors for its events or travelling offsite for its events.
The rooms are well designed and decorated, the only real thing that differs between rooms is the view. The bathrooms are clean and crisp with glass showers and great amenities. There are two 4-5 bedroom Presidential suites on property for those looking for a larger space.
Keep in mind one tower of this property is for timeshare/condo ownership only. The other tower is the hotel side.
---
Opal Sands, 4.5 stars, 230 Sleeping Rooms, ~17,000 Sq Feet Meeting Space
This property was the best seen in the Clearwater area. This new build from 2016 did a great job ensuring all guests have water views along with a clean crisp look. Each guest floor has a pantry with complimentary waters, fruits, and ice refreshed daily which is a nice perk for guests. The rooms were well designed and decorated for a beachfront property with most rooms having outdoor furnished balconies.
The meeting space is perfect for a midsized corporate event. There is natural light throughout the space and most breakout rooms have ocean views. The Sea Salon which is the ballroom foyer area has floor-to-ceiling windows complete with ocean views.
The pool area is another highlight of the property. There is a great outdoor terrace used for private corporate events with ocean views.
There are a few different food and beverage outlets so plenty of options for each meal. The property also boasts an impressive private dining room for your next executive dinner.
Overall this is a great option for those looking for an affordable beachfront 5-star experience only 30-40 minutes from the Tampa Airport.
---
Grand Hyatt Tampa Bay, 4 stars, 442 Sleeping Rooms, ~19,000 Sq Feet Meeting Space
This is a typical corporate Hyatt with an addition of a pool club setting (Bayside pool) that's great for outdoor events. This property's meeting space is all being renovated at the end of 2018. The property is close to the airport but far from any bars or restaurants.
For companies focused on meetings and not the leisure aspect of the trip, this could be perfect. The outdoor space is ideal for evening social events and the hotels has great water views throughout the property. It lacks the "wow factor" as a vacation hotel but provides everything you need as a corporate meeting hotel.
---
Tampa Marriott Waterside Hotel & Marina, 4 stars, 727 Sleeping Rooms, ~40,000 Sq Feet Meeting Space
This is another property that's a great fit for corporate meetings. The bonus for this property is the number of rooms and also the size of the meeting space. On top of that there is plenty to do walking distance from the hotel.
The hotel is about to start a large renovation of their lobby, restaurants, and rest of their meeting space. They just recently finished their main ballroom which looks great. Keep an eye out to see what the final product looks like as this could be a great fit for your next large corporate or association event.
Note the owners are opening a JW Marriott directly across the street with additional meeting space for larger groups. There will be a covered bridge to get from one property to the other.
---
The Ritz-Carlton, Sarasota, 4.5 stars, 266 Sleeping Rooms, ~35,000 Sq Feet Meeting Space
This property is another typical corporate hotel best for meetings. The grounds are beautiful along the water, the service is top-notch, the gym is everything you need, and the food is a step up from the norm.
The meeting space is plentiful and traditional which makes the space easy to use. There are two great outdoor terraces for evening receptions with lights already in place.
The sleeping rooms are a typical Ritz product that you would expect to find at any of their properties.
A highlight of this property is the beach club owned by the Ritz. Unfortunately it's located about a 10 minute drive away but it has a great beach, pool, locker rooms, restaurant, and outdoor reception area.
---
Hyatt Regency Sarasota, 3.5 stars, 294 Sleeping Rooms, ~17,000 Sq Feet Meeting Space
This is an interesting property across from the Ritz. If you are looking at a lower budget option then this could be a good fit for you. This hotel is on the smaller side but their meeting space is larger than you would expect.
---
Naples Grande Resort & Spa, 4 stars, 470 Sleeping Rooms, ~42,000 Sq Feet Meeting Space
This property has a few advantages with the biggest being the size of the property, including the number of sleeping rooms and the size of the meeting space. For those with many breakouts this could be the perfect option for you.
This is one of the nicer spas out of the hotels on the West Coast of Florida.
---
Hilton Marco Island Beach Resort & Spa, 4 stars with potential to 4.5 stars, 310 Sleeping Rooms, ~12,000 Sq Feet Meeting Space
This property has a TON of potential. It is currently closed for overnight guests as they are completing a renovation of all meeting spaces and guest rooms. They have recently completed the pool area, restaurant, and lobby. For those looking for a domestic beach incentive trip then this could be a great fit for you. With only 12,000 square feet of meeting space it makes corporate meetings more challenging. However, It's the perfect size for a 80-100 room incentive trip. With only 1 central pool and a huge white sand beach it is easy for guests to network while on the property.
It will be interesting to see the final product of this hotel. If it is done right some of the JW business will be moving down the street.
The main drawback when looking at Marco Island is the 1 hour transfer to the airport.
---
JW Marriott Marco Island, 4 stars, ~720 rooms and increasing with new renovation**, ~ 72,000 Sq Ft Meeting Space but additional conference center will be open for end of 2018.
The JW Marriott Marco Island is under a large renovation to add the Marriott's first adults-only section of a hotel, along with a new conference center. The conference center is almost complete and ready for next season. The space is impressive with open foyer areas and large outdoor terraces. For those looking for a large corporate event, trade show or association meeting this could be a great fit. For mid-sized corporate events under 400 people, you might find the space overwhelming.
The biggest issue with this property is that the current marketing of the hotel is showing décor and design of the small adults-only section. This makes many believe that the entire hotel will be decorated and renovated to this look. Unfortunately it appears it is going to look like two different hotels in terms of design/décor. The JW is sticking with the old traditional look that it has had for years. The Marriott, the new Adults-only section, and the front drive are the new design look. Even the lobby still has the traditional, older Marriott look.
Out of all of the properties on the West Coast of Florida this property seemed to nickel and dime the most. It was hard to come by water and some simple hotel pleasures that the other resorts provided.
The gym and spa are impressive on this property and the white sand beach is one of the best in Florida and even the entire US.
For a large trade-show event or company-wide big budget outing, this could be a great fit due to the space available. Unfortunately though, it appears to be a better fit for family outings, weddings, and long weekends away.
---
The Westin Cape Coral Resort at Marina Village, 4 stars, 293 Sleeping Rooms, ~24,000 Sq Ft Meeting Space
This property is a lower budget hidden gem in Cape Coral. It is located directly on a marina with a handful of restaurants and a few different boating activities available. The new ballroom is a huge addition to this property and makes a great fit for meetings, groups, or tradeshow events with 150-200 attendees. They have a great rooftop terrace for welcome parties and additional outdoor options for outdoor events.
A huge highlight for this resort is room size. All rooms are a studio suite type setup with options for 2, 3, and 4 bedroom suites. These rooms have oversized screened-in balconies that all face a water view.
The gym is everything you would need for a corporate event and there is a great outdoor casual bar/restaurant called the Nauti Mermaid that all attendees will love. There are three pools on the property, tennis courts, and a Westin workout Fitness Center.
There is also a complimentary water taxi that does one round-trip per day to a local beach (trip takes 30 minutes each way by boat). You can even see manatees and dolphins right from the hotel pool and bar.
The management team at this hotel including the GM will go that extra step to ensure your meeting is successful!
Overall this is a great option for your next small corporate meeting with anywhere from 20-200 attendees.
---
South Seas Island Resort, Captiva, 3.5 stars, 471 Sleeping Rooms, ~20,000 Sq Ft traditional meeting space
The South Seas is a unique property that is targeted towards a family getaway. The meeting space is limited and outdated. The sleeping rooms need to be renovated. The property is extremely spread apart so it would make corporate networking difficult. If you have a large family program with no meeting space requirements then this could be an option for you.
Unfortunately for most corporate meetings/incentives this might not be the right fit.
---
Sanibel Harbour Marriott Resort & Spa, 3.5 stars, 347 Sleeping Rooms, ~30,000 Sq Feet Meeting Space
This property has two great highlights: the large and functional meeting space and the staff and management team. If you are looking for a lower budget option then this property could be perfect for you. The rooms, gym, lobby and pool area are in need of a renovation but the meeting space is plentiful and the views are impressive. Many of the breakouts have floor-to-ceiling windows with ocean views and outdoor terraces.
Another perk of this property is the Sanibel Princess is docked here and is a great option for a dinner reception or welcome reception for 80-100 guests.
Overall this could be an option for a low budget event but they are in need of some renovations if they wish to keep up with the Hyatt or Westin in the area.
---
Hyatt Regency Coconut Point Resort & Spa, 4 stars 450 Guest Rooms, ~40,000 Sq Feet Meeting Space
This property was the highlight in the area with the addition of its new Lazy River, Water Slides, and Family Pool. There is so much to do at this property for the leisure traveler but also plenty of meeting space for your next corporate event.
The hotel has a water taxi that brings guests over to their own beach area. There are no food and beverage outlets over there but there are beach chairs, umbrellas, and restrooms. Plus, guests can pack their own coolers for the beach which they conveniently sell along with beverages at their grab and go outlet.
The sleeping rooms are a typical Hyatt quality with a more traditional décor package. Sadly not all rooms have a full walk-out balcony. The lower-tiered rooms only have a Juliet balcony.
Did we mention they also have a golf hole in the middle of one of their lagoons? Makes for some great friendly chipping competitions with floating golf balls!
The only downfall of this property is that the lobby and restaurant outlets are in need of a renovation. Once that is complete this will easily be a 4.5 star resort in a hidden area for most East Coast companies.
Overall this is a great option for your next mid-sized corporate meeting (200-350 attendees). Make sure if you choose this option you provide your guests with a few hours of leisure to enjoy the pools or beach.
---
Left Off:
Naples Golf
Naples Beach
Both properties are undergoing major renovations over the summer and will be re-evaluated once complete.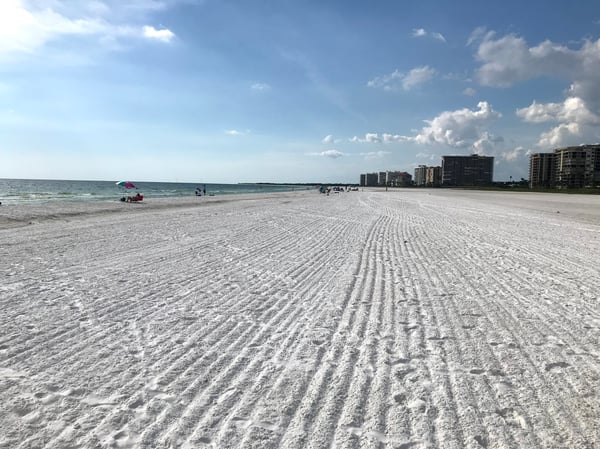 Editorial Disclosure: The editorial content on this page is not provided by any entity mentioned herein. Opinions expressed here are the author's alone, and have not been reviewed, approved or otherwise endorsed by any of these entities.
As is standard practice, our group of talented and experienced travel agents will often accept hosted stay invitations and hosted dinners and activities within destination in order to facilitate more detailed reviews.
All images by the author.