---
How to create the perfect balance
Incentive trips are supposed to be a reward to your employees for a job well done. With that in mind, how do you balance required events with time for rest and relaxation? The question comes up repeatedly in discussions with our customers, and in general throughout the industry.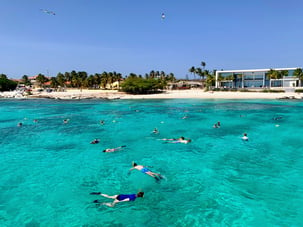 There are three main factors to consider when creating the itinerary for your incentive trip:
Location
Type of group
Goal of the trip
First, the location is a key factor when organizing an itinerary. If the event location is a Caribbean beach, people are more likely to feel relaxed right off the bat. On these trips, attendees tend to find each other and socialize throughout the day as there are limited options to escape or explore on your own (especially with small all-inclusive resorts). With European destinations, attendees are more likely to spread out, as each individual has different cultural interests. Some will want to enjoy museums, while others will prefer local futbol matches or the nightlife scene. With a destination like that, it's okay to let attendees explore a city on their own or in small groups, but it's also important to schedule more group events to ensure guests have an opportunity to socialize and network with their co-workers. For Caribbean destinations, formal events are less important and we encourage more casual meet-ups, such as afternoon beach games, karaoke in the evening, even just a casual get-together at the pool bar. What works in Aruba might not translate to a Barcelona trip, but again, you can host really great group events in both settings. In any case, your employees are enjoying a few days outside the office, building relationships with their co-workers and executive team. There are many great destination options for incentive travel, offering different but equally wonderful experiences. It's just important to tailor the itinerary to your location so you can optimize the trip for your team.

Second, the type of group plays a huge factor in setting your itinerary. For example, with young technology companies, we find that co-workers want to spend the 3-4 days together and actively seek each other out during their "free time." With tech companies, you will typically find over 65% of the participants enjoying the pool together in the afternoon, as their employees are friends outside of work as well. This makes planning an itinerary a little easier because attendees don't need a busy itinerary or formal meet-ups to structure their trip. That said, these groups are also the most likely to skip organized "non-group" activities, such as golf, zip-lining, fishing, and cultural tours. They find the prospect of enjoying a relaxing afternoon at the pool with co-workers more enticing than 8am tee-times or 6am fishing departures. For some older industries, such as banking or mortgage companies, we find that more formal scheduled events are successful in ensuring the employees socialize and network over the course of a 3-4 day trip. You can keep the events short, and we still recommend no more than one required commitment per day. You don't want your employees to feel like their entire trip is forced participation, but instead that they are there to unwind as a reward for a job well done.

Third, the goal of the event. Depending on the company's goal for the event, the itinerary will differ drastically. Companies that have offices all over the world often use these events as an opportunity for employees to network, share best practices, and strengthen their relationships. For these companies, the more scheduled events, the better. Otherwise you'll find the different offices automatically stick together throughout the trip. Others who have only one or two offices already spend a significant amount of time together, so networking opportunities are less important. With some fast-growing companies, you will find that 70% of the attendees are new to President's Club. In that case, the trip provides an opportunity to get to know the executive team more intimately and strengthen relationships with co-workers. Other companies use President's Club as a true vacation for employees and only include 1-2 events to recognize the attendees for their past year's success. Ultimately, you just need to figure out what's important to your company and base your itinerary on that!



Final Recommendation

One recommendation for young companies that are new to incentive travel is to keep the activities simple. Instead of offering five different activities to choose from, maybe a 3-hour afternoon snorkel catamaran cruise or beach olympics event makes sense for the whole group. Or if the group is into golf, keep it simple and offer golf, spa, and resort credit (for those who just want to stay back and relax). Remember, the participants always have the opportunity to do additional activities at their own cost. Cutting down options for them to choose from ahead of time decreases the amount of no-shows and keeps the itinerary more organized.

If your company has been hosting an incentive trip for years, make sure you keep a file of the activities that were offered, the number of people who selected each, and the number who actually showed up for the activity once on site. This will help you build out data for future trips to see what works and what doesn't for your group specifically.
Editorial Disclosure: The editorial content on this page is not provided by any entity mentioned herein. Opinions expressed here are the author's alone, and have not been reviewed, approved or otherwise endorsed by any of these entities.
As is standard practice, our group of talented and experienced travel agents will often accept hosted stay invitations and hosted dinners and activities within a destination in order to facilitate more detailed reviews.