---
Annual Sales Kickoff
Many tech companies host an annual sales kickoff every January or February to help recap the previous year, set goals for the upcoming year, and announce new product launches. These kickoffs have evolved from traditional Webex meetings delivering content, to live hands-on sales trainings and/or simulation tests. This shift in the way kickoffs are held comes with many added costs. A Webex/Zoom meeting is a low cost, non-branded solution that allows companies to share their updates and changes in a concise meeting format up to 3 hours. Anything over the battery life of a computer and you start losing attendees (to be honest, you lose the focus of most dial-in participants after 70 minutes).
While there are certainly benefits to these webinars or sales trainings, the more popular solution today is getting employees together for a 3-4 day intensive kickoff event. An important part of these events is the positive effect on company culture. What better way to boost employee morale and get your team ready for the year ahead, than to put them together for 3 days in sales trainings during the day and social networking events at night. Most kickoffs only include 4-8 hours of content and the rest is focused on having a more hands-on experience.
So this all leads to meeting planners' most commonly asked question: where should we go next year? Unfortunately for most growing tech companies, this question comes a good 6-9 months before their 300-600 person event! The tech market is constantly changing with IPOs, funding, and acquisitions, so meeting planning timelines have continued to shrink while cash is watched more closely.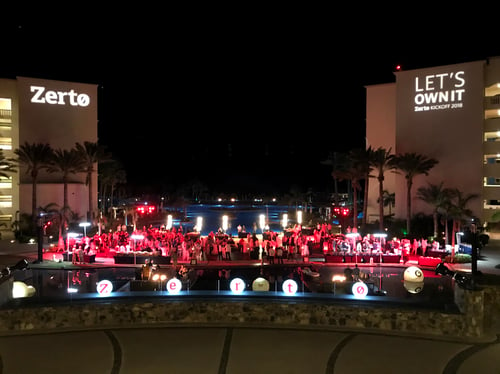 Most of the common locations are brought up first (Las Vegas, Orlando, Miami), but those are usually the worst options for growing tech companies. If an important piece of your kickoff event is company culture and networking, then throw Las Vegas out of the mix. There is too much to do each night in Vegas and it pulls people in all different directions. Instead of networking as a large group at a local bar, guests are off attending shows, walking the strip, hitting blackjack tables, and exploring everything Vegas has to offer. It's fun, yes, but are you creating an environment for employees to bond with their team? Probably not. Planning Orlando under 9 months is unrealistic, as room blocks are booked 2-3 years in advance. The cost is high, and it's another huge destination where guests end up spread out all over the city. You are also paying a premium for the proximity to Disney and usually for millennial US-based sales reps, that value is lost on them. Miami has a few perks: more manageable properties where you can own the meeting space, easy flights, warmer weather, and the South Beach sexy nightlife. This all comes at a premium of course, and January/February is a busy time of year for the Miami scene. Most of the properties book up well in advance, and once again, guests are going to look to explore the different nightlife options in Miami, not necessarily hang out together.

Then you get to the next tier of US options: Nashville, Scottsdale, San Diego, New Orleans, Ft. Lauderdale, Atlanta, and Dallas. If your budget allows for it, all of these options are perfect for growing tech companies. New Orleans might be a reach given the distractions but you can still make it work. The airlift in Atlanta and Dallas is exceptional for worldwide kickoffs despite the average weather. The weather can be better in Ft. Lauderdale, Scottsdale, and San Diego but average airlift and elevated costs due to weather.
If you really want to get the most value for your dollar and create the best networking opportunity, think outside the box and look at all-inclusive options. Why an all-inclusive?
First, the value for your dollar.
Yes, single occupancy rooms can get expensive but let's look at a pricing example. For a 5 star all-inclusive in the Dominican Republic, Mexico, or Jamaica, you are looking at a cost of approximately $400 per night. For Panama, you can get closer to $250 per night.
For that $400 per person per night, you are receiving accommodations (compared to ~$260 per night for a US-based event), meeting space, breakfast (compared to ~$52), lunch (compared to ~$58), morning and afternoon breaks (compared to ~$46). This all-inclusive rate includes bottomless coffee, tees, sodas, waters, etc. for attendees during all meeting days.
Without dinner or any evening events, the pricing compares: an All-inclusive plan is around $400 per night, while a European plan (no food & beverage included) is around $416.
Now take the European plan and add dinner, a cocktail reception, and late night drinks at the bar:
Dinner estimate: approximately $108
Open Bar (3 hours): approximately $56
After Bar Estimate: approximately $36
With food & beverage, you're actually looking at over $200 additional spend per person per night, so the true comparison is as follows:
All-Inclusive $400 per person per night
European Plan: $616 per person per night
Keep in mind, not every all-inclusive resort will include all breaks and evening events without a surcharge, but almost all will negotiate it into the contract if you push back on them to include it. For the overall budget, all-inclusive resorts makes great sense for corporate events.
Next, the culture and networking aspect.
When an event is held at an all-inclusive property, it keeps all attendees on site for the duration of their stay. This forces natural networking. When an attendee heads to the bar before the evening event, they are likely to find a co-worker and strike up a conversation. When they head to the disco or sports bar on site, they will run into other kickoff attendees. You are no longer requiring them to hang out, it just happens organically and in a more social setting. You find people heading to the lobby bar or sports bar on site to see what other attendees are doing, not just meeting up with their friends at the company. And when you leave the middle night open, all of a sudden you find groups of 10-20 employees joining each other at the hotel's steakhouse or hibachi table. For those who are new to the company or just shy, an all-inclusive setting makes it's far easier to join groups when everyone is together at one small property.
Finally, ease of planning.
All-inclusive properties provide a more packaged experience, so it also makes the planning process much easier. The menus are more concise and standardized, individual incidentals play a smaller role, and guests can be provided more flexibility since they will naturally end up networking together. All of a sudden, that middle night free makes more sense than a structured evening event.
When there are only 450 rooms at a resort and your company is using 350 of them, it's guaranteed that employees will run into each other all day every day!
Most all-inclusive properties are machines, highly adept at producing successful corporate events that go a step above what you would normally expect (especially in Mexico and Panama). There are fewer unions to deal with (see: Las Vegas, Orlando), and the hotel will jump through hoops to provide an experience that makes you want to come back year after year. Even the AV teams at these properties will work hard to keep you happy. They are not the Wynn team but they can plan a production that includes everything from LED spotlights to video mapping.
Overall, as the structure of these kickoffs continue to evolve, especially among global tech companies, it will be interesting to see if more companies move their annual events from domestic hotels to international all-inclusive resorts. The value and benefits are there. Now the challenge is finding the appropriate 5 star experience in a foreign country.
Here are a handful of properties that are a great fit for corporate kickoff events:
---
Editorial Disclosure: The editorial content on this page is not provided by any entity mentioned herein. Opinions expressed here are the author's alone, and have not been reviewed, approved, or otherwise endorsed by any of these entities.
As is standard practice, our group of talented and experienced travel agents will often accept hosted stay invitations and hosted dinners and activities within destination in order to facilitate more detailed reviews.
All images by the author.