Overall St. Thomas and the USVI's overall have struggled in the MICE space. The reason behind this is the high number of timeshares compared to hotel rooms. In 2017 they ran some great incentives to drive tourism to USVI's but most of this focus was on leisure travel instead of incentive travel.
Conde Nast: The U.S. Virgin Islands Will Pay You to Visit in 2017
Here is a quick review of the main hotel players in the MICE market in St. Thomas.
The Ritz-Carlton. St. Thomas - 180 Rooms, 10,000 Sq Feet Meeting Space
For those looking for a 5-star property on St. Thomas then the Ritz is your only option. The rooms are on caliber with the Ritz brand, all rooms face the ocean, and there is meeting space available but unfortunately the rest of the hotel falls short compared to other Ritz products. The infinity pool area is nice and the servers are in constant rotation throughout the day taking both food and drink orders. Sunscreen is provided complimentary at the beach and pool. There is a quick grab and go food outlet that is great to have on site for breakfast sandwiches, smoothies and afternoon frozen yogurt.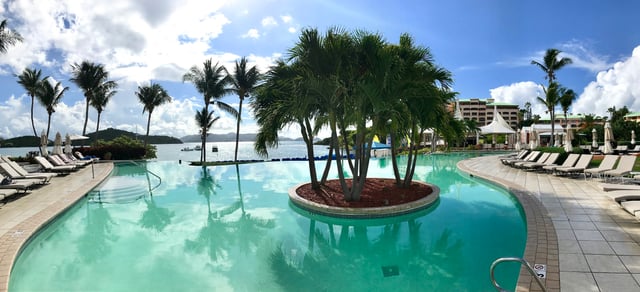 The service received a rating of a B. The employees were friendly but unfortunately fell short in service expectations.
The meeting space is odd-shaped with a thin long setup that is not ideal for any type of big group presentation. The gym has everything you need but would not define it as luxurious. The restaurants were just okay. For a Ritz the breakfast buffet was disappointing. The spa has been renovated to offer more treatment rooms but seemed to book up quickly. Overall this spa can't even be compared to Ritz Aruba or Ritz Reserve Dorado Beach, it's fine for those looking for a treatment but it's not a full spa experience with pools and hot tubs.
The ocean was rocky and had a large number of sea urchins close to shore. The beach was small and compact and had a good amount of seaweed each day. The kayaks, stand up paddle boards, sailing boats, and snorkel equipment were constantly in use and are a great offering to guests. Albeit at a hefty required daily resort fee of over $75 per day.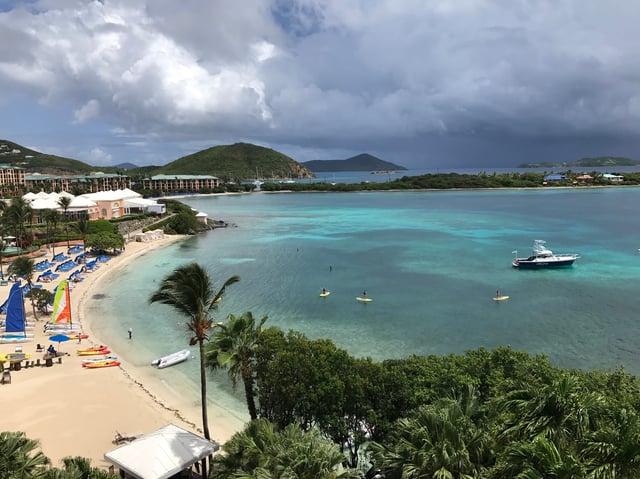 The sales team is definitely one of the bright stars of this property and are great to work with. Overall the biggest draw to this property is a Caribbean offering with no passport required for US residents. Other than Caneel Bay in St. Johns and a trio of properties in Puerto Rico, this is not possible. If you do not require a US destination then we highly recommend Ritz Aruba as a replacement destination. We have even seen the prices at the Ritz Aruba come in better than the Ritz St. Thomas for most dates and you can't even compare the two. Personally I would put this hotel in a 4-4.5 star rating and the Marriott Frenchman's property in a 3-3.5 rating.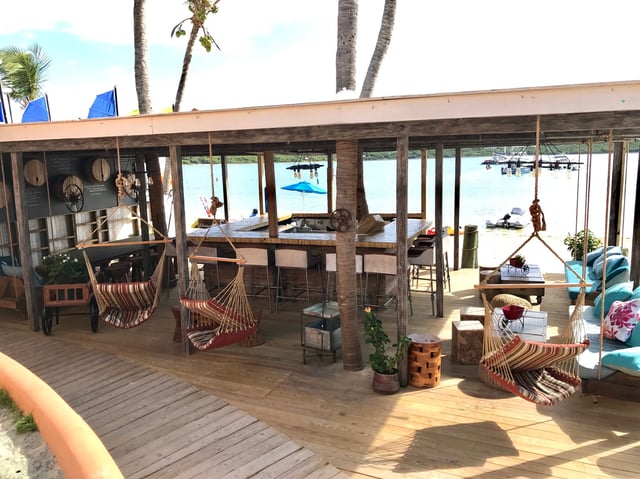 ---
Frenchman's Reef & Morning Star Marriott - 470 Rooms, 20,000 Sq Feet Meeting Space
This property is divided into two different areas. The Frenchman's Reef is located in the cliffs with the infinity pool and the Morning Star property is located down by the beach. The Morning Star property is more out dated but does have the quicker beach access.
Sadly this property also disappointed especially in the service department. From the moment we stepped on property the entire experience fell short and ended up with frustrations. The housekeeping performed at a rating of C- and that is generous. The front desk and phone operators matched the housekeeping rating of C-, and that doesn't take into account the multiple times you would call down to have no one answer or just be transferred to no one.
The two shining stars at this property was a server named Yolanda who worked at the Rum Bar in the evenings and Jose who supported maintenance. They truly understood the importance of customer service and were a refreshing change from their co-workers. They did their jobs with a smile on their face and with a 5 star mentality.
For meeting space within US territories this might be your top option if you are looking for significant square footage in a warm weather Caribbean environment. The meeting space has great natural light and ocean views. The up lightening was also updated and everything you would need. The ballroom size and setup is one of the top perks of this property. There is also a great ocean view terrace that is perfect for a welcome party or cocktail party. Not a great fit for an event that requires a screen setup but great for networking events.
The adventure center on property was great and attentive. They had many offerings and entrepreneurial mindset to create new and exciting activities for the guests. The night kayaking was unique and memorable.
As far as food outlets go on property you do have a handful of options split between the two properties. The Coco Joe's restaurant down at the beach was overall disappointing from the food to the service. The waitresses seemed to ignore food allergy requests and seemed to be inconvenienced by guests. Sunset Grill above the pool was over and above the best food we experienced on property. The food quality impressed each time we visited that restaurant, both for lunch and dinner. The service, not as great but at least they did it with a smile on their face. Also would love to see a slightly larger menu and also to see accurate menus displayed online. It would be great to have an outlet on property for a quick grab and go with smoothies, fruit parfaits, etc.
Overall I would not be rushing back to the property unless you are looking for a 3.5 star property with large meeting space needs.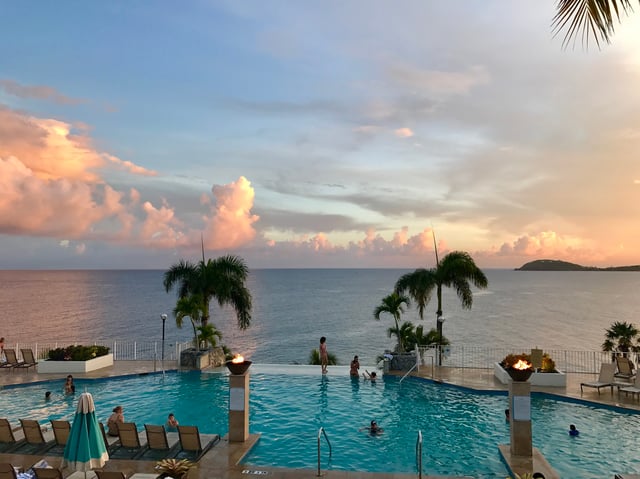 ---
Any other guys? Margaritaville recently renovated and reopened but a majority of their rooms are sold through timeshare or VRBO, and not for short term incentive trips. Sugar Bay Beach, an all-inclusive option, would be the only other option on St. Thomas for group travel but unfortunately that property has a long way to go in terms of food. The sister island to St. Thomas, St. John always has only one current hotel selling into the incentive space and that is Caneel Bay. The Westin recently has pulled out of group travel and turned their focus to the time share market.
Overall St. Thomas has great airlift and the ease of working with a US territory but unfortunately the lack of customer service and luxury makes it a tough choice for a meeting planner..... But if you like swimming with Turtles, then the rest might not matter and you will go home happy!!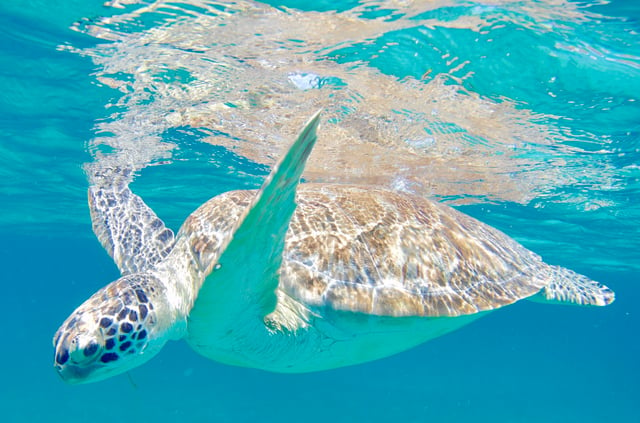 Editorial Disclosure: The editorial content on this page is not provided by any entity mentioned herein. Opinions expressed here are the author's alone, and have not been reviewed, approved or otherwise endorsed by any of these entities.
As is standard practice, our group of talented and experienced travel agents will often accept hosted stay invitations and hosted dinners and activities within destination in order to facilitate more detailed reviews.
All images by the author.