When looking for the perfect hotel for your next event, it's essential to have strong partnerships with individual hotels, third party sales teams, and regional corporate reps.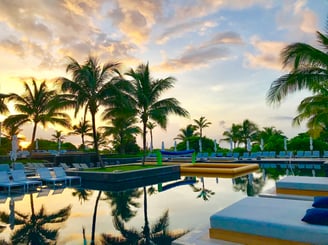 There are 4 main partnerships we work on building throughout the year.

First: Internal sales reps.
This role only focuses on one property and can be located on site or remote. This is where we spend our least amount of time, because given the sheer number of hotels, this would be a daunting task. We have also found these relationships to be the weakest when reaching out for support or needing a favor.

Second: Regional corporate reps.
This role works for the hotel group/chain and is responsible for a small group of hotels, usually in a similar region or market. For example, the Marriott Luxury Brand Caribbean Sales Team focuses on 12 Marriott luxury hotels in the Caribbean, Puerto Rico, and Mexico. If done well, this can be an extremely beneficial partnership as you can book two-year deals throughout the portfolio. The key to this relationship is finding a rep who is looking to build a partnership versus having a transactional business. If you can find a good partner, they are most likely the first person you will turn to when looking for your next hotel property. We spend a significant amount of time each year building these relationships within our target regions and hotel chains.

Third: Global corporate sales reps.
This role can help you source any hotel within the brand. For example, the Marriott Global rep who helps manage RFPs for any Marriott hotel. Unfortunately we haven't found this role to be super helpful on the larger scale, as the process is usually longer and the reps generally provide less targeted service.

Fourth: Third party sales or marketing partners.
This role reps a small group of hotels under similar brands but is not working directly for the brand. Instead they work for a third party sales/marketing team located in the US to help sell the properties. Examples of this include the AIC group who has regional reps throughout the US to help sell properties, such as UNICO 20º87º, Nobu Miami, Hard Rock Los Cabos, and many more. On a broader scale, this would be the Preferred Hotels or Leading Hotels of the World rep. We continue to build these relationships, as we find they help us cut down on sourcing time, select hotels that are the right fit, and are always supportive if issues arise during contract or even the event.

You may ask why this is so important.

1. Leverage on negotiations: With good partners you can be extremely honest and let them know exactly what you need. If they are strong partners and you need a favor, they are more likely to be flexible on a specific negotiation knowing you are working together on multiple events. Be honest and direct, let them know what you need, and you would be surprised how much time you can save on the negotiation process.
2. Crisis Management: If something goes wrong on site or if there's confusion on contract terms, a strong partner will help find a solution--usually faster than working with the hotel directly.
3. Ease of contracting: The more you work with a partner, the quicker the contract process becomes because they understand the terms that are important to you. The turnaround time with partners you have relationships with is usually much faster, and we find the process to be more open and honest during the contracting stages.

You might ask, what is a good rep? For me, it's someone we can shoot a text to on a weekend or when we need a quick turnaround. It's someone who is thoughtful and responsive, wants our business to thrive, and who I want to send a holiday gift to each year.

Without our strong hotel partners, the contracting process would be much more cumbersome and even more expensive to our clients. So take our advice and attend the next AIC networking event in your city or schedule time to grab lunch with your Hyatt global rep.
Editorial Disclosure: The editorial content on this page is not provided by any entity mentioned herein. Opinions expressed here are the author's alone, and have not been reviewed, approved or otherwise endorsed by any of these entities.
As is standard practice, our group of talented and experienced travel agents will often accept hosted stay invitations and hosted dinners and activities within destination in order to facilitate more detailed reviews.
All images by the author.