UNICO 20˚87˚ is a new player to the adults only all-inclusive scene having been open just over a year this spring. From the moment you enter the property you are taken back with the décor, welcome drink, and fresh scent.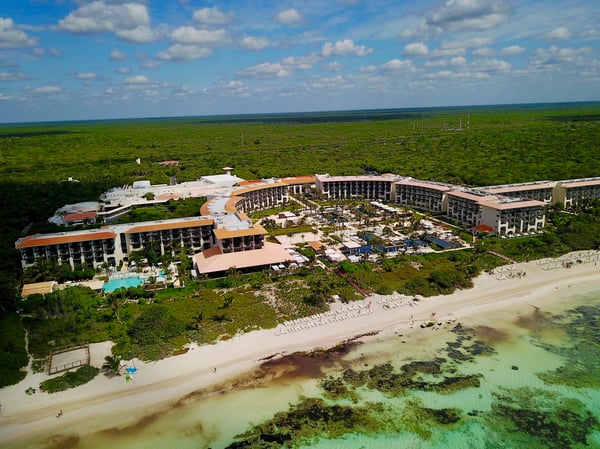 The reception team keeps check-ins quick and comes to guests at the couch versus the traditional line-up at the desk. They appoint every guest a local host who brings you to your room and gets you comfortable with the property. The host will even provide you their cell phone number for the remainder of your stay. They will help you with anything from making dinner reservations, to spa appointments, and even coordinate getting your outdoor bath prepped. It's a nice added touch! If you return, they do their best to appoint you the same local host.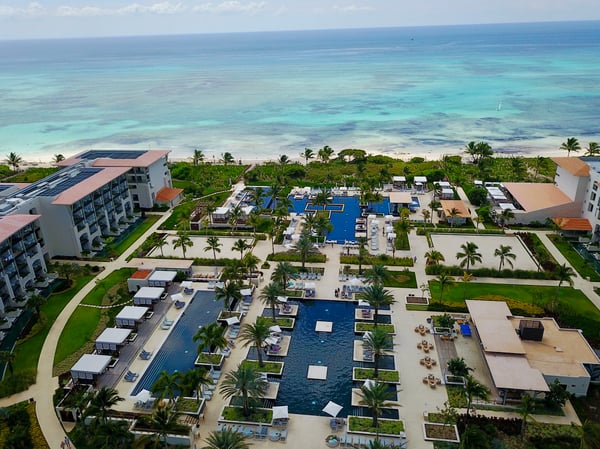 Three highlights of this property to focus on:
The décor and design blows away any of the competition in terms of all-inclusive resorts. The only property that competes with this contemporary chic design is Nizuc which is European Plan. This not only includes the rooms/bathrooms but also the lobby area, dining options, and especially the two pools areas. For a young millennial this property is the perfect balance of relaxation with options of nightlife, pool sports, and socialization. The décor inside the room is light and refreshing and each balcony has either a soaking tub or a swim-out pool. The showers are very large and bathrooms have plenty of room for 2 guests. They also have barn style doors to add a sense of privacy. There are 3 main pools on property. One pool is known as the quiet pool despite having a swim up bar. This pool is for true relaxation, those looking to read a book, or just enjoy a more subdued experience. The main pool is the activity pool with a swim-up bar, pool volleyball, in-pool swim class, basketball hoops, DJ's, floats and plenty of action. This pool has two layers with the top infinity pool waterfalling into the lower activity pool. There are plenty of lounge seats around this pool for guests to enjoy. This is not a property in which you needed to get up early in order to claim a seat, there were always available spots at one of the pools, even later in the day. For those looking for shade the pool staff did its best to bring over an additional umbrella if you weren't able to find a lounge chair that was shaded. The third pool is located close to the activity pool and is the lounge pool. The servers stay active delivering drinks since there is no swim up bar but it's another great option for those who like to watch the action but not be in the center of it.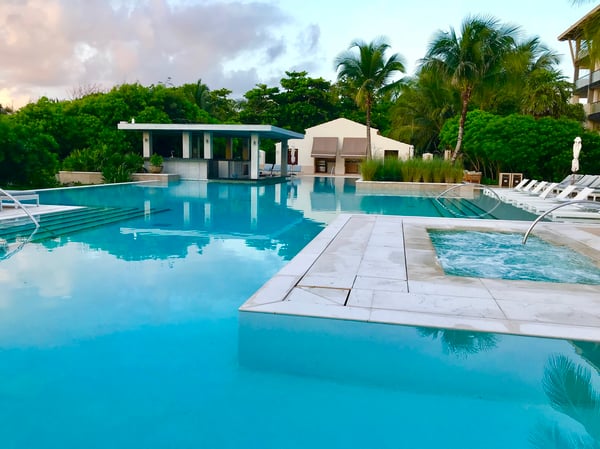 Don't forget about the beach! Unfortunately in the last year the entire Cancun and Riviera Maya has been plagued by a seaweed issue so you never know what you are going to get. In April there was seaweed covering much of the beach and then only a few weeks later it was mostly taken out to sea. Even with that said, directly in front of the resort is quite rocky but you can walk down the beach for a better swimming experience.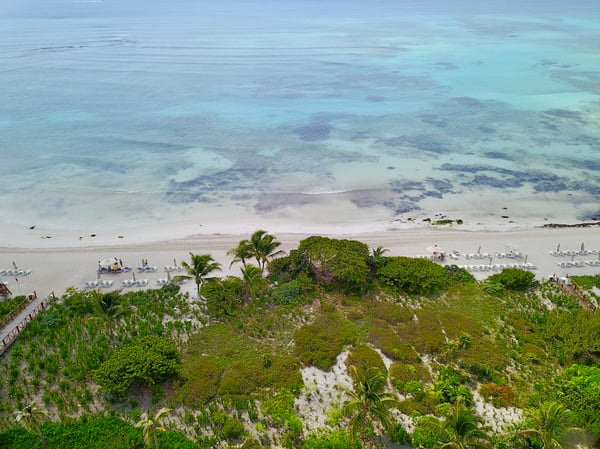 The unlimited inclusions in terms of spa treatments is hard to compete with. Essentially guests can book multiple spa and/or salon appointments and only pay 20% cost of the treatment as a resort credit fee. The spa is beautiful and the pool area and water treatment experience is enjoyable. The spa does get crowded but the experience was still enjoyable each and every time visited. The salon offers everything from haircuts to blow outs to manicures and pedicures. This is a huge perk for those attending a wedding or corporate gala dinner. You have your own beauty team on site at an extremely low cost! We are still not sold on the rest of the unlimited inclusion tours as they have received mixed reviews. The swim with the dolphins has been a winner but the zip-lining/caves feels extremely touristy. The resort itself is beautiful and there is plenty to do so there is really no reason to leave!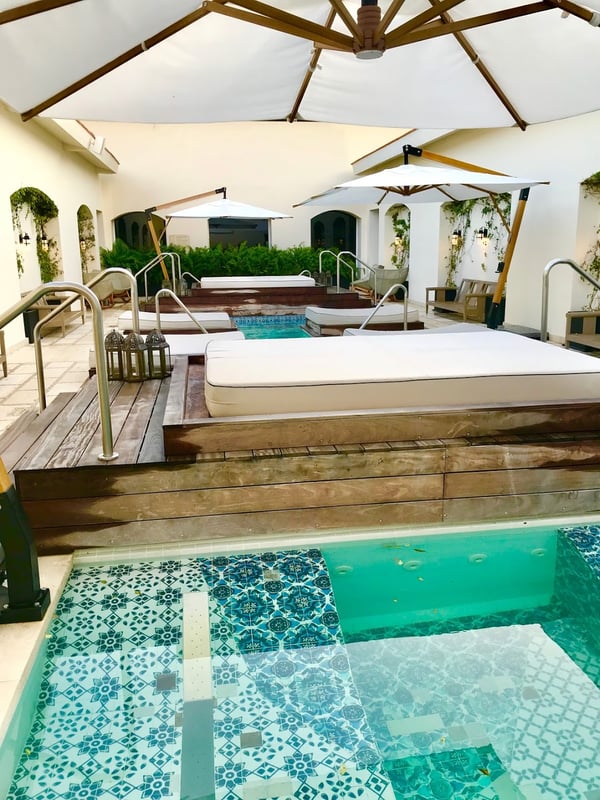 The Asian fusion restaurant, Mura House is an experience you will be looking forward to, and want to come back to. There are three options for seating: at the sushi bar, the Hibachi table, or traditional seats in the restaurant. This restaurant does book up quickly and can build up a wait time up to 90 minutes if guests don't pre-book. The menu is vast with everything from lobster rice to sushi rolls to shrimp/steak/chicken skewers. There is something for everyone on this menu. Overall, after a few visits we think the most consistent and best quality of food on property.
They are still working out the inks in terms of service but most employees have come another property so they are experienced in hospitality. This property is being pitched as a more luxurious option than a Hard Rock type brand so guests' expectations are higher. Because of this the employees need to adapt in terms of service speed, ordering accuracy, and complaint response time. From March until May and again in August we already saw a significant improvement so the property is definitely moving in the right direction.
One big challenge in Mexico for hotels is food/water quality. This property is definitely a step above the rest of the all-inclusives in the Cancun/Riviera Maya area. However it cannot compare to the food at any of the five-star EP properties such as the Rosewood, Fairmont, Nizuc, or Ritz-Carlton. Those resorts will continue to be a 5 star + luxury offering and right now the main premium you are paying for is food and drink quality. Plus, add in that five star service. Unico 2087 is the first all-inclusive property to close the gap with these properties in comparison of décor, amenities, pool area, and overall experience. Again it still has a ways to go with food and service but each visit it appears to improve and is coming closer to closing that gap.
The food and dining is a step above the rest of the all-inclusives in the area. The highlights include the lobby bar, Bar Balam, the taco bar and ceviche bar by the pool, and of course the Mura House restaurant for dinner. The lobby bar is a step above the rest in terms of cocktails and creativity. Ask for their welcome cocktail with vodka from the lobby bar! It's the most refreshing cocktail you will find! Like many all-inclusives they have a range of alcohol brands. If you don't ask you will be given a well brand but if you request it they have top shelf brands such as Grey Goose, Jack Daniels, etc. They are still lacking in whiskey/bourbon selections but the vodka and tequila offerings are strong. The main beer served is corona and corona light but if you ask nicely you can find a few additional options. The pool bar drinks are just okay given they are making so many in such a short period of time.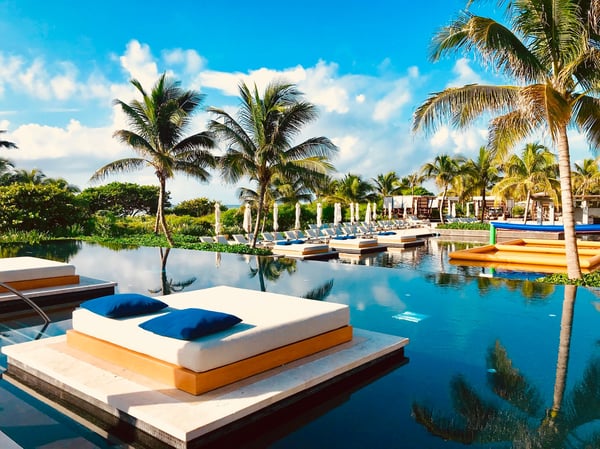 The daily breakfast and lunch buffet is extremely impressive, but don't forget about 24-hour room service that is actively used at this property!
The only disappointment in terms of food was the Mexican specialty restaurant. It left us slightly confused as we were expecting this restaurant to be a step above the rest but in the end it was the least favorite of the group.
There is also a bar on property, Palmera Lounge for late night DJ, Salsa and theme nights. There is a great outdoor terrace with a full bar and is a huge hit for both couples and groups. Inside there is a dance floor and usually a DJ spinning late into the evening (~2am). This is only open certain nights of the week and the hotel supplements evening activities in the lobby bar for the nights it is closed. This location is also used for some of the earlier evening activities such as tequila tasting, margarita making, and mixology classes.
The gym, basketball/tennis courts, and beach activities are everything you would need. The staff does a great job keeping up with maintenance of it.
Did I mention the bathrobes, slippers and the complimentary sun hats? These are little perks expected at a five-star property but Unico has done a great job sticking with its brand and target market in developing these items.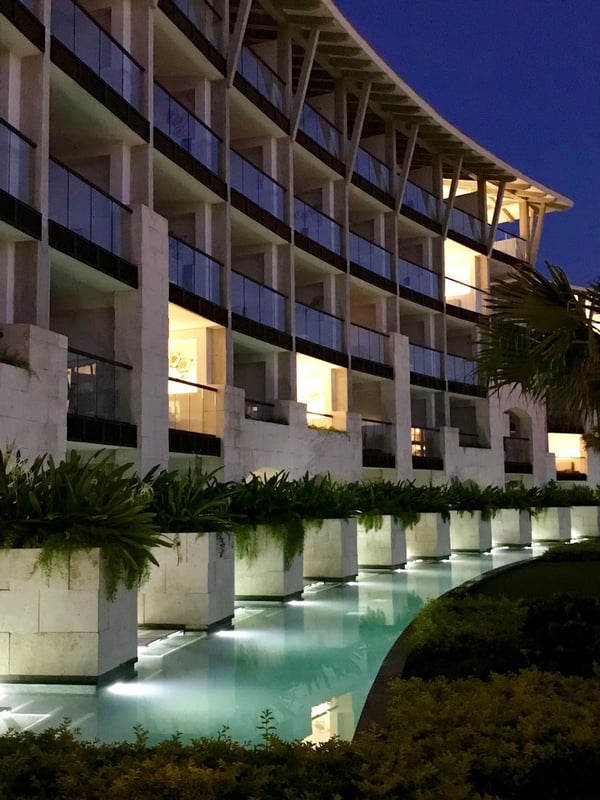 The meeting space is everything you need and they have two great outdoor terrace spaces for welcome parties and farewell parties. This is a group hotel so almost every day of the year you will find groups on property from weddings to corporate events. The staff is well experienced in hosting these events and do a phenomenal job on décor and setup. The food is average in terms of group catering and can be improved but the bar service is good and guests will leave happy. Also to note their CSM's are great which is a huge relief when planning group events. The unlimited inclusions rep has some room for improvement but hopefully with time that process/experience will improve.
The transfer from the airport is approximately 70 minutes depending on traffic. We have made it between 1 hour 4 minutes and 1 hour 13 minutes all 6 trips. There are military police placed along the route to ensure additional safety. We do recommend booking a private transfer or shared hotel shuttle versus renting a car.
Unfortunately Mexico is facing some media questions in terms of safety, so uncertainty is rising for US travelers. During our visit in March, April, and May we felt nothing but safe. The heightened precautions the police and military are taking to ensure the comfort of travelers were visible and comforting. The customs/immigration lines were some of the longest we have ever experienced so it would be inaccurate to say less Americans are traveling to Mexico. Stay tuned for a September blog post in which we will discuss the current situation in Mexico in terms of safety and MICE travel. Our team took part in an industry event in August, in Riviera Maya and Cancun which will help educate us even further on the current situation.
After 4 visits in the past six months we can't express enough our personal feelings of safety on property and how impressed we are with Unico 2087 for an all-inclusive experience. It's been one of our highest rated incentive trips yet, with a majority of the group pushing for a repeat in 2019! For 2018 it receives our gold star for best new MICE property. They do a great job of providing a well-rounded vacation experience from the minute you enter until the minute you leave.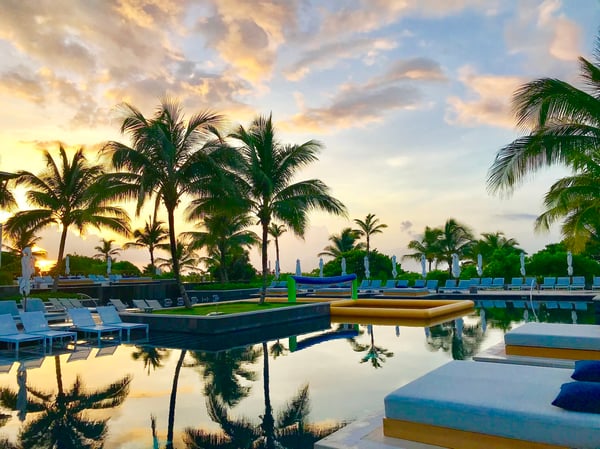 ---
Editorial Disclosure: The editorial content on this page is not provided by any entity mentioned herein. Opinions expressed here are the author's alone, and have not been reviewed, approved or otherwise endorsed by any of these entities.
As is standard practice, our group of talented and experienced travel agents will often accept hosted stay invitations and hosted dinners and activities within destination in order to facilitate more detailed reviews.
All images by the author.