---
It's year 5 of your annual President's Club and it's been nothing but a positive experience. Sales numbers have significantly increased in the 4th quarter since instituting the program and the percentage of employees hitting 15% higher quotas has doubled. Each year while on the trip you realize how successful the trip is in bringing together your employees and building excitement for the year ahead.
While this year in particular has been far from normal, you know that the incentive trips have worked well for your company in the past and hope to continue (and grow) these programs in the near future.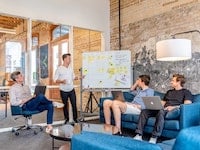 Photo by Austin Distel
As the head of the reseller program, you think to yourself: what if our partners could share in this incentive experience? Our brand could grow faster and our resellers would be getting our product in the hands of customers at an even faster pace.
It might be the perfect time to add a partner or reseller trip to your annual incentive offerings. Is there a way to create a program that will increase your partner sales over 20%? The key to the program is to ensure there will be additional revenue generated by adding this trip to the annual line-up. You can do this by setting ambitious but realistic partner revenue targets or % increase year over year targets with a base revenue limitation.
One creative way to make these trips even more powerful is by allowing your company's sales reps of the winning partners to attend the trip. This will build the relationship even more while on the trip but more importantly will ensure a stronger partnership throughout the year. A partner trip is a great opportunity to build your brand and get your resellers fired up for the year ahead. One example of a company who does an amazing job of this is Aflac. They host monthly, quarterly, and annual incentive trips for their independent agents worldwide. Some of their top agents (independent insurance resellers) can attend 4+ trips a year! The more Aflac they sell, the easier it is to qualify for surfing in Hawaii, skiing in the Swiss Alps, or exploring the islands of Greece. Aflac has been able to successfully build their brand through this growing reseller network, and in turn have rewarded them for their loyalty and allegiance.
There are three ways to host a partner/reseller trip from a budget perspective:
First, your company can cover 100% of the costs and make stretch qualifications to ensure the revenue increase comes close to covering the cost of the trip.
Second, you can provide hotel arrangements, and host parties/activities while on site but the attending partners would be in charge of their own flight and airport transfer costs. This would allow you to open the trip to a larger number of attendees while keeping the budget reasonable. When trips are structured this way, there are usually a few meetings, speakers, or focus groups offered for attendees. You want to be careful not to confuse a partner incentive trip with your annual conference/convention. They are two different business strategies.
Third, you can create a rolling rewards program and the more business the partners do for you, the quicker they can redeem their points for a paid vacation. This option works best for specific industries, such as building supplies, consumer products, etc.
Again, each company is different but if you are looking for a way to grow your current reseller program, an incentive trip could be the perfect solution.
Editorial Disclosure: The editorial content on this page is not provided by any entity mentioned herein. Opinions expressed here are the author's alone, and have not been reviewed, approved or otherwise endorsed by any of these entities.